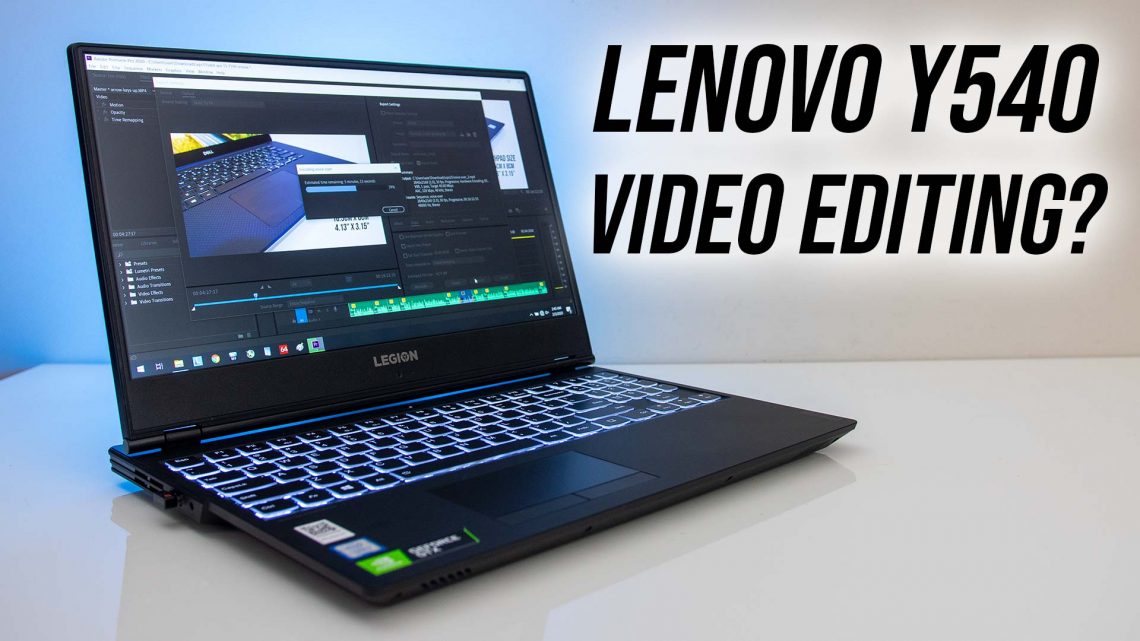 Is The Lenovo Y540 Good For Video Editing?
The Lenovo Legion Y540 is a popular gaming laptop, but how well does it go in video editing? Let's investigate Adobe Premiere performance!
The Y540 is available with different hardware configurations, which will of course affect results. My Y540 has the following specs:
| | Lenovo Y540 Specs |
| --- | --- |
| CPU | Intel i7-9750H |
| GPU | Nvidia GTX 1660 Ti |
| Memory | 16gb DDR4-2666 dual channel |
| Storage | 512gb NVMe M.2 SSD |
| Screen | 15.6" 1080p 60Hz 300 nits |
There will be a focus towards Adobe Premiere here, as I'm very familiar with the software and use it to edit my YouTube videos.
Editing
Let's start out by covering what's needed to edit video with the Y540 – we'll check out exporting after.
Hardware matters
From my personal experience, CPU power seems to matter more during the exporting process than the GPU. The i7-9750H I've got here is definitely plenty capable of 4K video editing, and given past experience with the i5-8300H, I'd expect the i5-9300H to do pretty well too. There's more to it than just the model number of the CPU, different laptops will perform differently.
There are other factors which can cause issues with timeline playback. You'll want to make sure you've got a decent SSD installed with good read speeds to read those video files.
The Lenovo Y540 has fair storage options. There's a single M.2 slot which works with either SATA or PCIe NVMe SSDs. The 2.5″ drive bay could also be populated with SATA SSD or hard drive.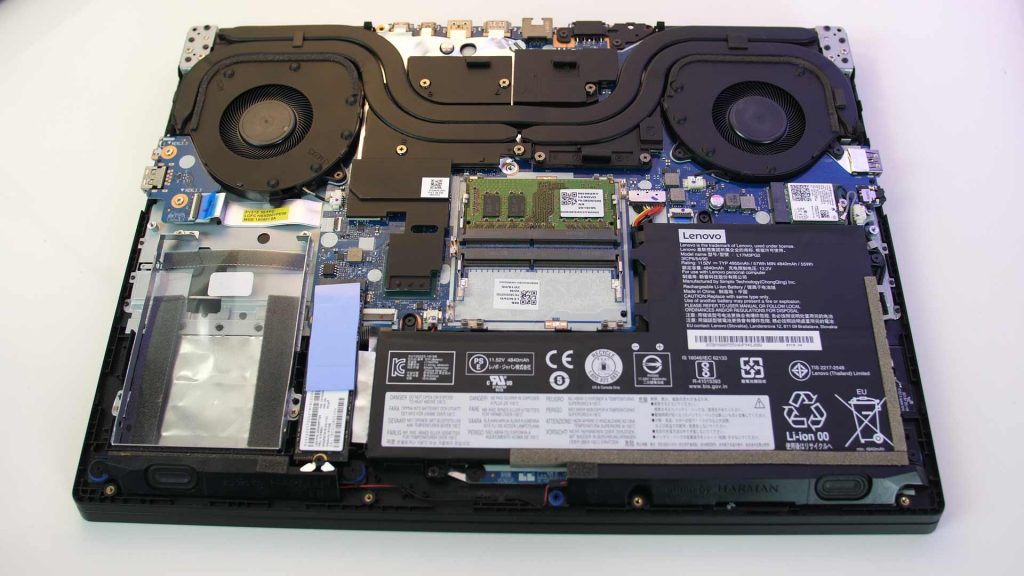 For optimal performance, I'd recommend editing from an NVMe SSD.
In the image pictured above there's also just one stick of memory, meaning it's running in single channel. Performance gains can be had by using two sticks, as this runs in dual channel, so that would be something else worth considering.
The Y540 is available with 3 screen options:

For video editing, I'd suggest either of the 300 nit options. The screen will be brighter and colours will look better. You can still definitely edit with the lower quality screen, it's just not going to look as good. This means that the image you're seeing in the final product might not actually be how it looks to others.
You'll also want to make sure you're working on AC power for better performance.
Unleash the proxies!
Even with all this great hardware, you still might have some stuttering during 4K timeline playback. Personally, I can still work like this despite it not being 100% smooth as long as it's good enough, but your mileage may vary. Adobe Premiere has the proxy feature, which lets you transcode video files down into smaller copies that are used for timeline playback.
Given the Y540 isn't available with a 4K screen option, you're probably editing with the 1080p panel anyway – do you really need to playback in 4K? I'm not much of a pixel peeper, when I'm editing I just need to be able to see what I'm doing. I transcode my 4K video files down to 720p proxy files, so when playing back the timeline, less resources are required.
The initial transcode can take some time, and this is a task that sees benefit from more CPU cores. An i7 would be beneficial compared to an i5 in terms of speeding the task up, but again an i5 is definitely capable.
Depending on your workflow, you could store your larger 4K/1080p files on a cheaper/slower 2.5″ HDD/SSD, transcode 720p proxies that are stored on the faster M.2 NVMe SSD and edit with these. When it comes time to export the project, the source files are used rather than the proxies. This means the final result will still be 4K/1080p or what ever you're using.
Exporting
Once editing is complete, it's time to export the project!
Hybrid mode affects performance
The Lenovo Y540 gives the user the option of enabling or disabling hybrid mode through the Vantage software. In short, hybrid mode enabled means Optimus is in use. This means that the Intel integrated graphics within the CPU will be used alongside the Nvidia graphics.
Some software suites like Adobe Premiere are able to leverage the Intel graphics to speed up the video exporting process. The graph below shows how long it takes to export one of my actual laptop review videos at 4K. You can clearly see that with hybrid mode enabled, so with both Intel and Nvidia GPU active, there's a nice speed boost.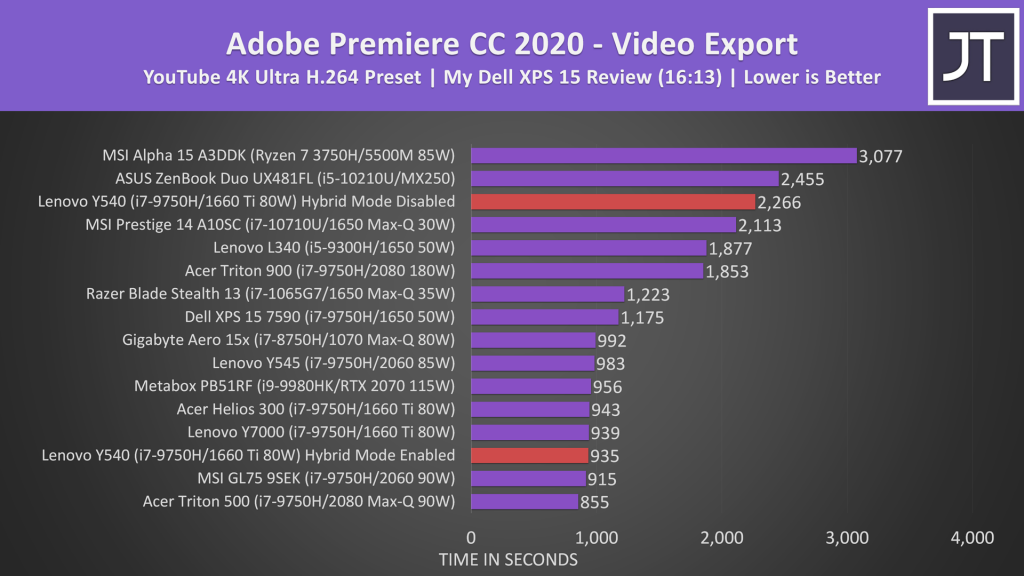 The Y540 is also holding its own compared to other laptops that I've tested, I'd happily use it with these specs for exporting 4K video. Once you have Nvidia GTX 1660 Ti or above graphics, there seems to be diminishing returns present, at least with this particular project which is real world for my personal workflow.
Results will of course vary by software suite, many others may not be able to take advantage of this feature – known as Quick Sync. Any time I'm traveling and editing my videos with Adobe Premiere, I utilize this feature to save time.
In Adobe Premiere though, I think the i7-9750H and GTX 1660 Ti tested here make for an excellent combination. If you can't afford the GTX 1660 Ti I'm using here, the GTX 1650 is still definitely acceptable and capable. It shouldn't really affect the editing process, but be prepared for exporting to take a bit longer. This may differ in other more GPU heavy software, like DaVinci Resolve.
Watch out for new CPU options!
Recently, I've noticed that the Lenovo Y540 can now be ordered with Intel i5-9300HF or i7-9750HF processors. These differ from your standard i5-9300H or i7-9750H chips. The 'F' means there is no integrated graphics as part of the CPU.
Basically Intel have processors that have issues with the GPU component that otherwise work fine. By disabling the GPU, they're still able to sell these CPUs as 'F' models rather than scrap them. These models have no option of enabling or disabling hybrid mode, they're permanently stuck in what would be equivalent to hybrid mode disabled.
I think this is a good option and has its place, as Lenovo in particular are selling the HF chips for less money. For video editing with Adobe Premiere though, you may not want these cheaper HF processors. As we just saw when testing with and without hybrid mode enabled, Adobe Premiere in particular can gain a nice speed boost with the Intel graphics.
Unfortunately I've only recently had one Ryzen based laptop to test Premiere performance, the MSI Alpha 15. In the graph above, it's the slowest out of these laptops. There's not currently a Quick Sync alternative for Ryzen, so no speed boost when exporting. Hopefully performance will change with 8 core/16 thread Ryzen 4800H CPU that's just around the corner.
Price
The Lenovo Y540 is priced quite well in most regions. Here in Australia, it's around $500 AUD less than the Acer Helios 300 with same specs. In the US though, the Helios is generally cheaper and performs similarly, so could be a better option – it's also got a 2nd NVMe M.2 slot.
Is the Lenovo Y540 good for video editing?
Yes, I think so. Just make sure you use hybrid mode for best performance come export time.
---
We are a participant in the Amazon Services LLC Associates Program, an affiliate advertising program designed to provide a means for us to earn fees by linking to Amazon.com and affiliated sites.