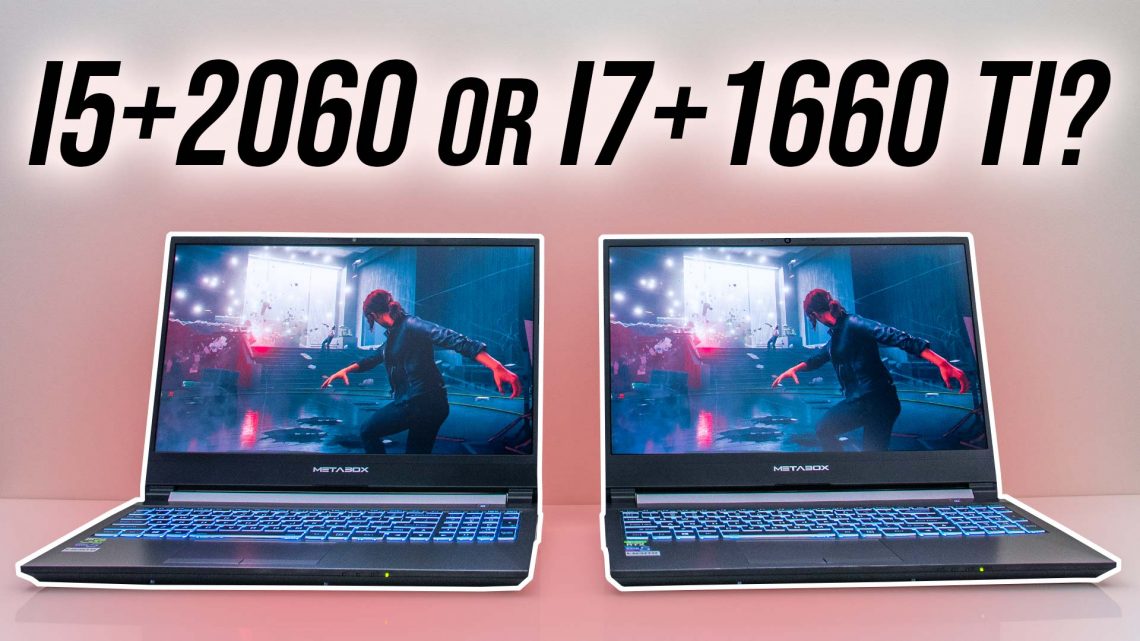 i5+2060 or i7+1660 Ti For Gaming Laptop?
Which CPU and GPU combination should you get in your gaming laptop? The Intel i5-9300H + RTX 2060, or Intel i7-9750H + GTX 1660 Ti? Let's compare!
I'll tackle this question in two parts, we'll first compare the CPU performance, followed by the GPU performance afterwards.
Intel i5-9300H vs i7-9750H
These are the specs of these two processors:
| | i5-9300H | i7-9750H |
| --- | --- | --- |
| Cores/Threads | 4/8 | 6/12 |
| Base Clock | 2.4GHz | 2.6GHz |
| Single Core Boost | 4.1GHz | 4.5GHz |
| All Core Boost | 4.0GHz | 4.0GHz |
| Cache | 8MB | 12MB |
| TDP | 45W | 45W |
| Memory | DDR4-2666 | DDR4-2666 |
We're expecting the i7 to have an advantage in multicore applications due to the 50% higher core count, however we're focusing on games here. Unless the specific game benefits from additional cores, the i7 should still have an edge due to its higher clock speeds and cache.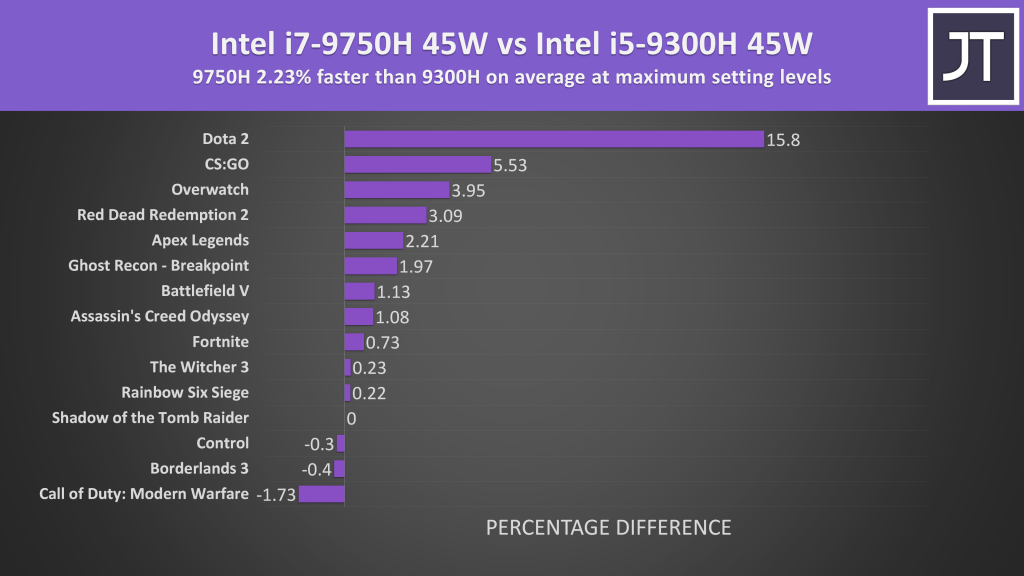 On average in the above 15 games tested, the i7-9750H is only 2.2% faster than the i5-9300H on average at the highest setting preset. The results vary wildly depending on the game though, esports titles dominate the top of the graph, so if that's your priority a higher tier CPU could be worthwhile.
You can find the full in depth break down between these two laptop CPUs in my detailed i5-9300H vs i7-9750H comparison. I've also compared core heavy CPU workloads there too if you want to get an idea of the performance differences outside of gaming.
Nvidia GTX 1660 Ti vs RTX 2060
Next let's see what the difference is between these two graphics options:
| | GTX 1660 Ti 80W | RTX 2060 80W |
| --- | --- | --- |
| CUDA Cores | 1,536 | 1,920 |
| Base Clock | 1,140-1,455MHz | 960MHz |
| Boost Clock | 1,335-1,590MHz | 1,185-1,200MHz |
| Memory | 6GB GDDR6 | 6GB GDDR6 |
| Memory Speed | 12 GBPS | Up to 14 GBPS |
| Memory Interface | 192-Bit | 192-Bit |
| Memory Bandwidth | 288 GB/s | 336 GB/s |
| TDP | 60-80 | 80-90 |
The clock speeds and thereby performance will vary based on the power limit. I'll be comparing the 1660 Ti and 2060 with the same 80 watt power limit, so as fairly as possible.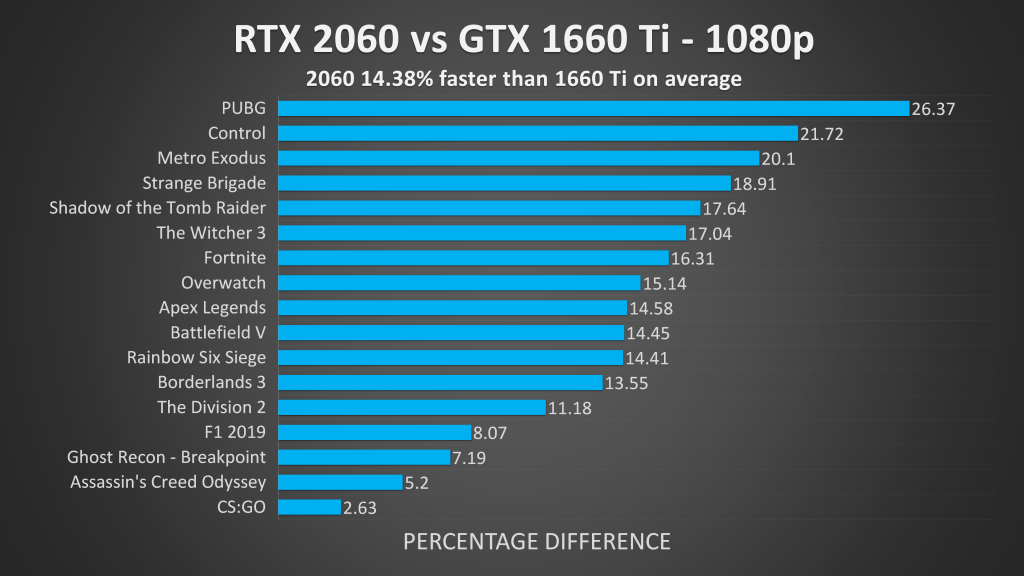 There are 17 games tested here, and again we're comparing maximum setting presets. There's a much larger 14% improvement to average FPS with the RTX 2060 here.
You can find the full in depth break down between these two laptop GPUs in my detailed 1660 Ti vs 2060 comparison. It's worth noting that the RTX 2060 has, well, RTX as per the name. Although there are still only a small number of titles that support ray tracing, with DLSS 2.0 some games like Control do benefit from this feature.
Conclusion
We can clearly see that there is a bigger performance gain to be had by selecting the RTX 2060 graphics over the GTX 1660 Ti option. When we look at the difference in processors, the i7-9750H was only 2% faster on average in a similar game selection when compared with the i5-9300H.
If we instead play at minimum, the average difference only increases to 5%. This is because lower settings are typically more CPU than GPU heavy. Regardless, the difference is smaller between the CPUs.
It would have been preferable if I actually had an i5+2060 and i7+1660 Ti laptop to compare with, however I've never had hands on time with an i5+2060 machine. This data should be enough to illustrate the point though, in most games the GPU difference is greater than the CPU difference.
It does of course depend on the game, CS:GO for instance only saw a 2% improvement to average FPS with the GPU change, while there was a slightly higher 5% boost between the CPUs. For CPU heavy games like that, waiting for 10th gen may be worthwhile at this point. For most other games though, don't expect too much gaming improvements from 10th gen.