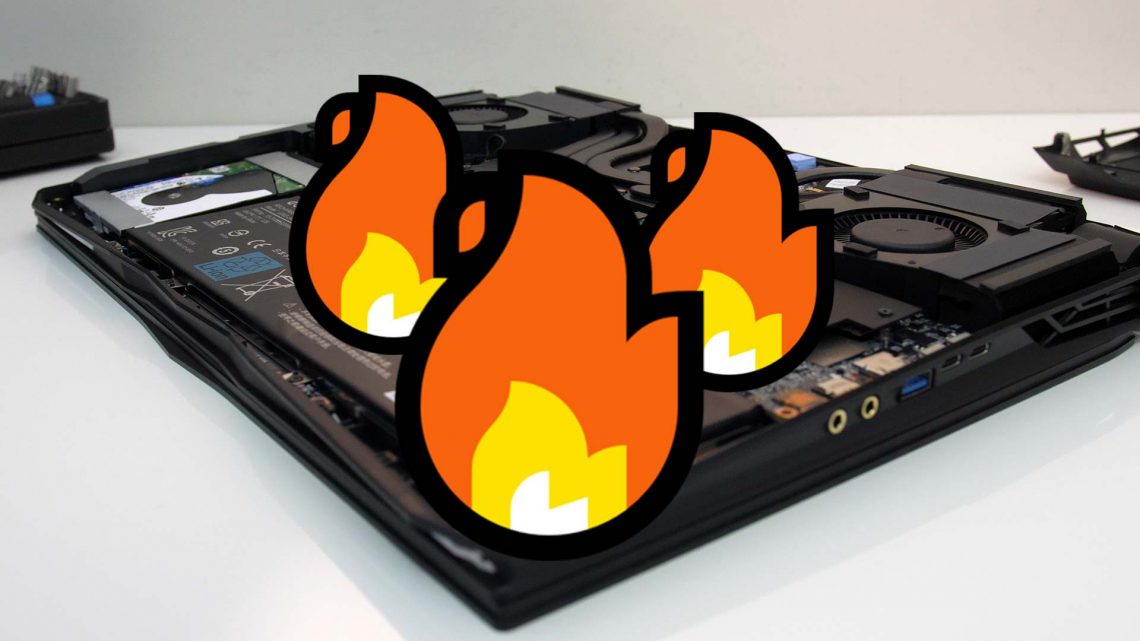 Is It Safe To Play Games On A Gaming Laptop For Hours?
Is it safe to play games on a gaming laptop for hours, or do you need to stop and give the laptop a break to cool down? Let's discuss if it matters.
I often get asked if it's safe to play games on a laptop for some period of time, usually anywhere from 2-6 hours. Based on this question, it sounds like people are under the impression that the laptop will continue to get hotter and hotter over time before breaking or causing damage.


Understanding heat soak
Under a consistent workload, at some point it will not be possible for the laptop to get any hotter than it already is. This point is referred to as maximum heat soak.
In most of the machines I've tested, this has occurred well within half an hour. When I do laptop thermal testing, I leave the workload going for half an hour before I even get started to allow full heat soak to occur.
If I simply have the machine turned off or running idle then start running tests, it won't accurately represent what you'd expect from playing for longer periods of time. It may perform better initially, then get worse as it heats up. I like to show worst case results so you know what to expect, which is why I wait for full heat soak to occur.
Once full heat soak has taken place, the temperature isn't going to get worse, so long as the same workload is still being applied. This is why it does not matter if you play games for 2, 4, 6, or 50 hours at a time (although you may have other issues with the latter amount). The laptop isn't going to continually get hotter as the hours stretch on.
The graph below shows CPU and GPU temperature over time with a stress test going in 1 minute increments for half an hour. As you can see, thermals rise sharply at the start, stabilize after just a few minutes, then hardly change, reaching equilibrium.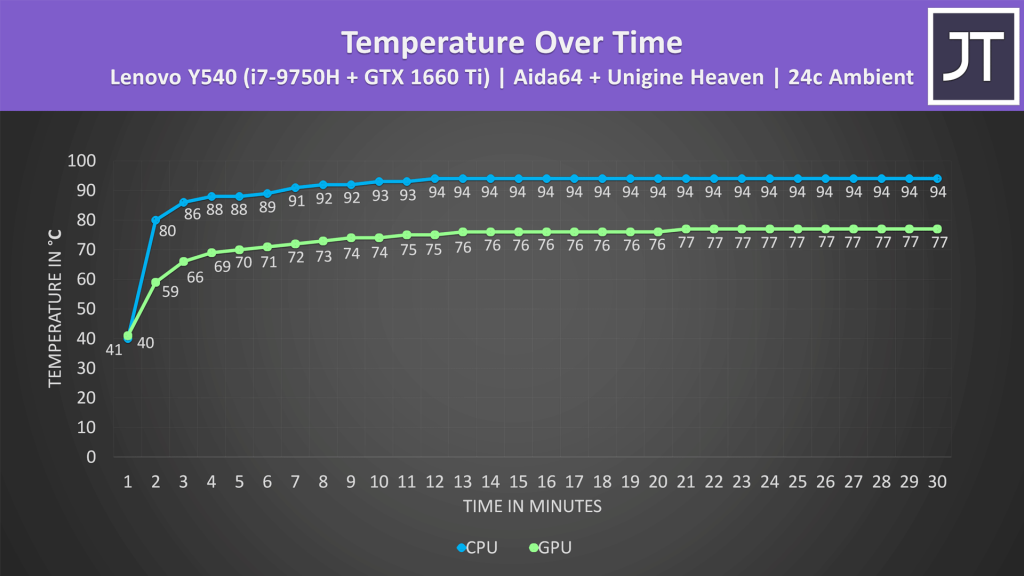 Although the temperatures don't change too much after the first few minutes, the chassis temperature does progressively change as all of the components soak up the heat. Still, it's not going to get any worse than after the first 30 minutes or so.
An exception would be if the ambient room temperature changes, then the internals will too. If the workload varies in resource usage, then thermals will also vary. This is a worst case demonstration.
Take a break, or keep going?
If the machine has already reached maximum temperatures after just half an hour or so, it's probably not going to get any hotter. Do you need to take a break to let the laptop cool down? Based on the numbers above, you'd need pretty regular breaks given temps rise up quickly.
Higher temperatures are considered bad. Heat kills components faster. Running hot for prolonged periods of time is therefore not ideal. The CPU and GPU are designed to run at high temperatures, they will throttle performance back if temperatures get too high.
What could be more of an issue though, is the other components on the motherboard. Depending on the laptop layout and design, they may be subjected to sub-optimal levels of heat.
Personally I think there is no reason to stop and take a break. I can't say I'd ever consider it myself, but maybe I'm just not that paranoid about it. That said, there are some simple improvements that can be made to lower temperatures such as CPU/GPU undervolting, using a cooling pad, lowering the ambient room temperature, or replacing thermal paste.
What temperatures are safe?
I've never seen any hard data indicating laptops dying from increased heat. There isn't exactly a best practice number to look out for as there are a lot of factors. I have no doubt that it does happen in some cases, that's just the way things work, however there is no definitive answer as to what temperature you should run different components.
If components are sitting at 100°C or something ridiculous, then it's another story and you'd want to get to the bottom of that. I use Hardware Info to monitor CPU/GPU temperature, however MSI Afterburner is great for giving you an on screen overlay you can see while gaming.
Gaming laptops should be designed to play games, I have no issue with the CPU hitting the mid 90s and GPU getting to low 80s, that's just what I'm comfortable with. I'm not saying these are ideal, and that there aren't steps you should take to make improvements, but as a worst case I'd have no problems gaming for hours like that.
Either way, I would consider the previously suggested steps to lower operating temperatures and promote longevity.
Is it safe to play games on a laptop for hours?
Yes, I think so, however there are steps you can take to improve thermals. Monitor the temperatures, if they're getting up there, try some of the methods discussed to improve thermals. You shouldn't have to stop what you're doing completely.
In the end for most people, just play what ever games you want for as long as you like and have fun, assuming you're not gaming on battery power!