How To Check GPU Power Limit (TDP) For A Laptop
Two laptops with the same graphics inside may not perform the same. Performance will vary based on the power limit of the GPU.
Unfortunately, in most cases the power limit is not specified on the spec sheet, so how can you find out? Let's take a look at how you can easily check GPU TDP on a laptop, and what you can do to find out for a laptop you aren't able to test.


For a laptop you have access to
What does software report?
After a recent Nvidia driver update, you can open the Nvidia control panel and select Help from the top bar, then system information. This will show you the "Maximum Graphics Power" value, in the below example this laptop is 130W.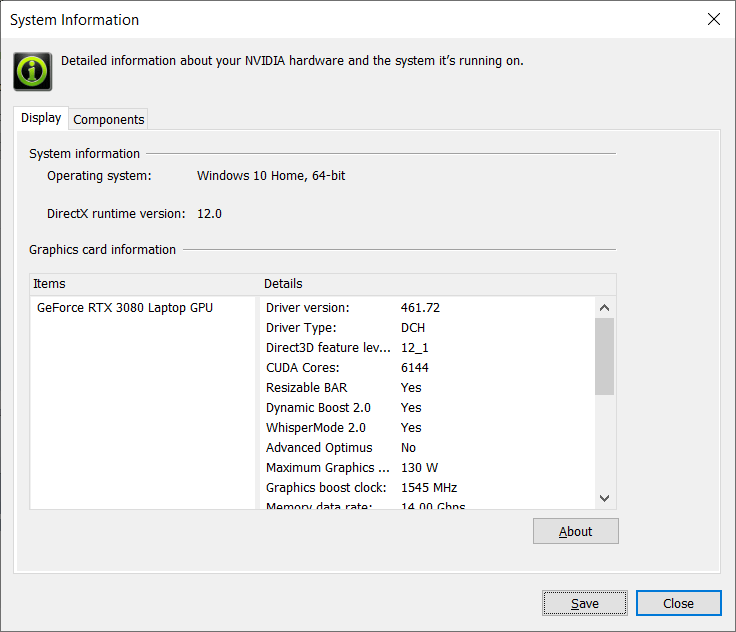 The actual value can of course vary based on dynamic boost though, so I recommend actually testing and confirming. For example, the above RTX 3080 reports a maximum graphics power of 130W, but dynamic boost allows it to run at 150W when the CPU isn't in use.
Checking power limits yourself
The process I use to determine the power limit (TDP) the GPU actually runs at is to simply run a GPU workload and monitor the results – like so:
Download and run HWInfo
Run a consistent GPU load such as a game with high settings, I use the Unigine Heaven benchmark.
In HWInfo, scroll down to the GPU and check "GPU Power", as highlighted below.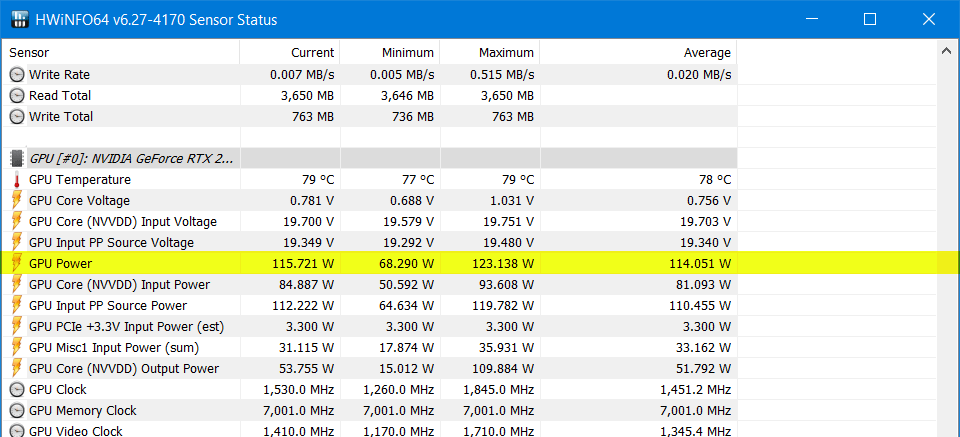 In this case, my RTX 2070 Super laptop GPU runs at 115W, which is considered Max-P or full performance rather than Max-Q.
You don't need to run your test for long, the example above was a 30 minute stress test and the average in the far right column was 114W. This will dip and rise at times, however the average is close to the expected 115W limit of the machine.
Other software like GPU-Z will show the power levels the GPU is running at too, the principle is the same, run a GPU load and monitor.
Depending on the laptop, the limit may change when the CPU is also engaged. After this, try a CPU stress test like Aida64 at the same time and see how GPU power behaves.
For a laptop you do not have access to
If the power limits are not specified by the vendor, your best bet is to check reviews. Good reviewers will note the power limits they observe as this is a key factor affecting performance. Failing that, you could ask the question to the vendor directly through support channels or who ever is selling the machine.
In an ideal world, all vendors would specify the power limit for the GPU, but unfortunately this is not yet the case. There has been some change in this area recently, hopefully we start to see more companies doing it as Nvidia continues to segment their GPU lineup.