What is a MUX Switch for Gaming Laptops?
A MUX switch lets you disable the integrated graphics in your gaming laptop, giving you a performance increase in games at the expense of worse battery life.
To understand what a MUX switch does, you need to first understand how Optimus works.
October 2023 update: MUX switch matters less with some newer laptops due to CASO, find out more in this video.

What is Optimus?
Most gaming laptops have two GPUs, the integrated graphics (iGPU) which is part of the processor, so Intel or AMD, and the discrete graphics (dGPU), Nvidia RTX 3060 for example.
The dGPU is more powerful, so it burns more power. This is not ideal in a portable device where battery life is important. Instead of using the beefy graphics all the time, when they're not needed the lower powered integrated graphics are used instead. The dGPU is still there and ready to be called upon should it be needed.
When you open a game or some other GPU intensive workload, the system is smart enough to run the workload on the more powerful dGPU. This is Optimus at work, also known as MSHybrid.
The Optimus Bottleneck
When running a game, the frames might be generated on the dGPU, but they're first send through the iGPU before reaching the screen. This means that in many scenarios the iGPU acts as a literal bottleneck, and this is why being able to disable Optimus results in a performance improvement in games.
I've compared 9 games with Optimus on and off here, but basically on average Optimus off gave a 17% FPS boost in these 9 titles. This is at maximum setting levels too, lower settings levels generally see an even higher boost.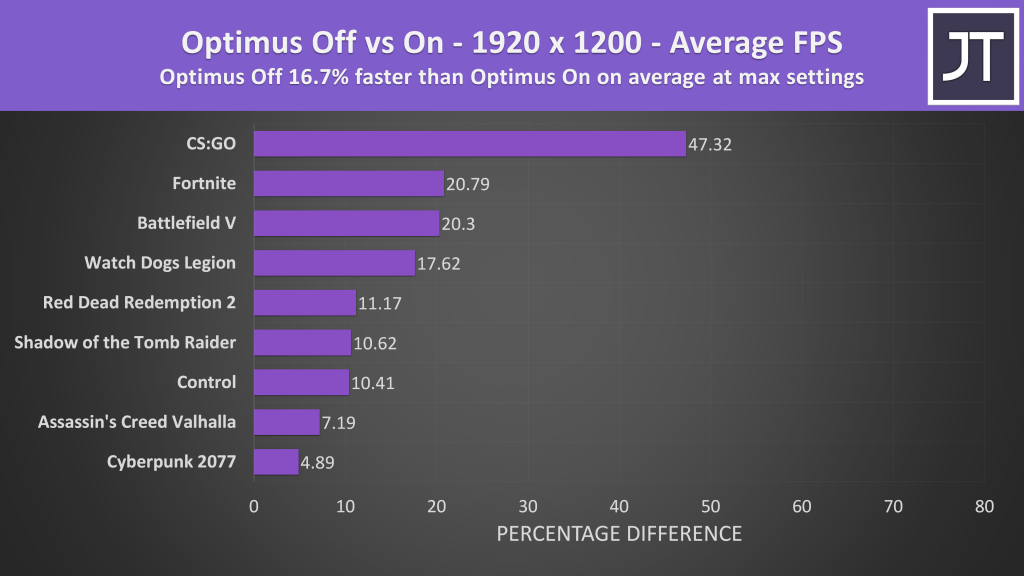 It depends on the workload though, games with higher frame rates like eSports titles typically see a larger performance increase with the iGPU out of the picture. Rendering workloads like V-Ray or Blender see next to no difference, as the task is basically fully offloaded to the dGPU for processing rather than frames being sent back via the iGPU as is the case in games.
What is a MUX switch?
A MUX (short for Multiplexer, often misspelled as "mucks" or "muc") switch lets us manually enable or disable the integrated graphics. It does this by physically changing the connection between the GPU and the screen. Being able to disable Optimus therefore requires that the laptop has physical hardware support for this feature, this is not something you can upgrade yourself. You cannot simply disable the integrated graphics through device manager in Windows, this does not change how the GPU and screen are physically wired.
A restart is required after enabling or disabling Optimus through Windows software to apply the change. This is a bit of an inconvenience if you're changing frequently, but if you're always gaming on wall power anyway then it makes sense to leave Optimus disabled.
With Optimus disabled, the integrated graphics are no longer available. They don't show in task manager anymore, instead only the discrete graphics are available. This is much more like a regular desktop PC now, where the screen is connected straight to the high powered GPU. Gaming performance should now be improved, as shown above, but if you need to run on battery power the run time will be less.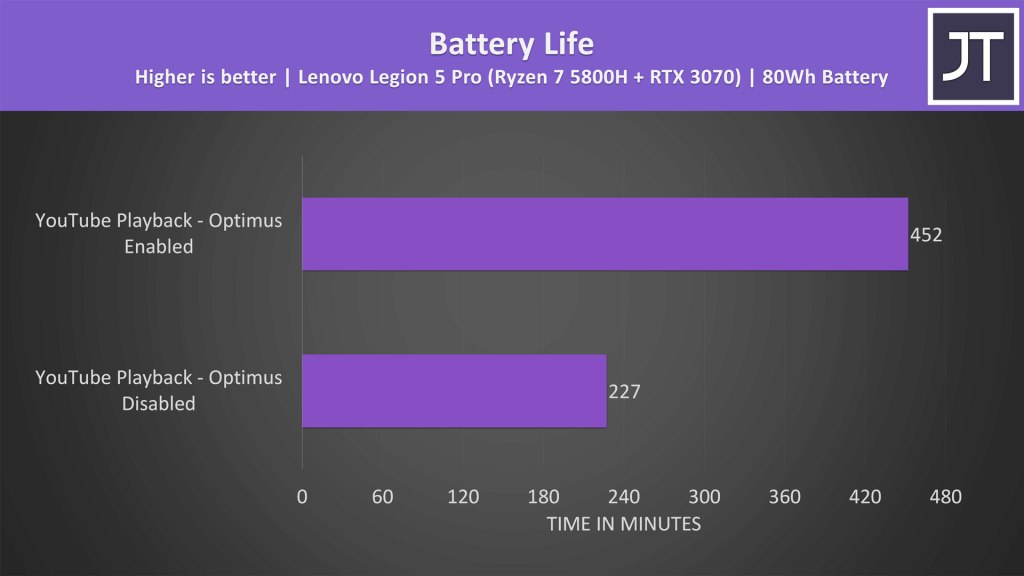 In this example, Optimus on was lasting for almost twice as long as Optimus off.
MUX switch unlocks extra features
Additionally, it will now be possible to use extra features. With Optimus enabled, Nvidia ShadowPlay can only work within games for screen capturing. To use ShadowPlay outside of games with other software or just the Windows desktop requires the direct connection between the screen and Nvidia GPU – That is Optimus Disabled. Optimus disabled is also required to use G-Sync on laptops that have G-Sync compatible panels.
Does my gaming laptop have a MUX switch?
Great question! If it's a model that I've tested then you can refer to this page to find out if it has a MUX switch. If your model isn't on that list, you can find out how to check your laptop for a MUX switch yourself for all popular gaming laptop brands here. I also mention this in every gaming laptop review on the Jarrod'sTech YouTube channel.
A MUX switch is a preferable, if premium feature
Without a MUX switch, your gaming laptop is either stuck with Optimus enabled or disabled, you cannot change it.
Throughout the last year, gaming laptops with a MUX switch have definitely become more common compared to the year before, or the year before that.
Many high end gaming laptops unfortunately still do not have it. ASUS in particular have told me that they didn't include it in mid range models like the Strix G15 Advantage Edition as it would increase cost, but then they also didn't include it in their higher end Zephyrus M16 either.
Personally, I think user choice is best. If you want maximum gaming performance while running a game you can, then if you need maximum battery life at school or in the office you can do that too. The downside is of course that inconvenient reboot, but this may soon be a thing of the past.
Advanced Optimus – A Panacea?
The idea behind Nvidia's Advanced Optimus is basically an automatic MUX switch, so no need to reboot to swap between iGPU and dGPU. Basically when you're just using your laptop to browse the Internet, the integrated graphics will be in use, but then when you load up a game it will swap over to the Nvidia graphics only for full performance.
This is obviously much more preferable compared to manually rebooting your laptop every time you want to swap between them – especially if you have a Dell G15 5515, as you have to go into the BIOS to make the change, there's no software front end option!
While Advanced Optimus sounds great in theory, in practice I've never personally had the chance to use it despite it apparently being available for some time now. This is kind of telling to me as a laptop reviewer that it may not be ready for prime time just yet.
Sure, there are some laptops sold with the feature right now, but I've heard from a number of large companies that they've had to delay their launch of Advanced Optimus. I haven't been given a clear reason as to why, but I get the impression it's bugs or other implementation challenges.
I don't have a MUX switch, can I still bypass Optimus?
No MUX switch? No problem! You can still boost gaming performance by instead attaching an external monitor to your laptop. Just as long as the display output connects directly to the discrete graphics rather than the Intel or AMD integrated graphics. For more information on this topic, please refer to this video.