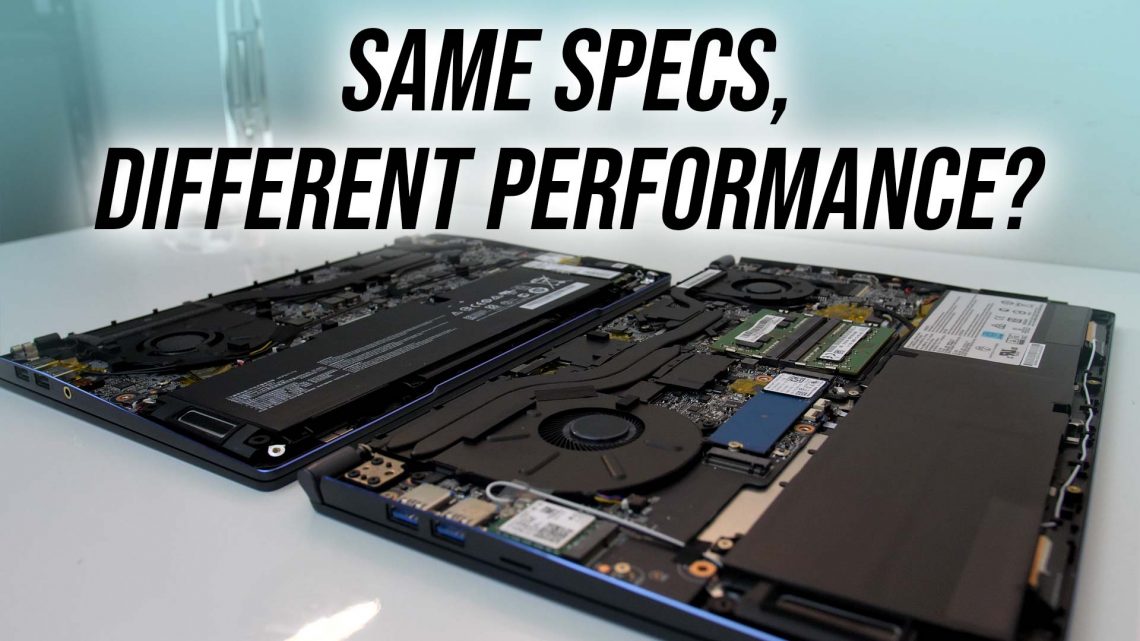 Buying A Laptop? Don't Just Compare Spec Sheets!
Shopping for a new laptop? Unfortunately you can't just compare the spec sheet, laptops with the same hardware may perform differently – let's investigate.
The Problem
I recently reviewed the MSI Prestige 14 laptop, which has the same key specs as the larger Prestige 15. Based purely on this information, which laptop would you pick?
| | MSI Prestige 14 | MSI Prestige 15 |
| --- | --- | --- |
| CPU | Intel i7-10710U | Intel i7-10710U |
| GPU | Nvidia GTX 1650 Max-Q | Nvidia GTX 1650 Max-Q |
| Memory | 16GB LPDDR3-2133 | 16GB DDR4-2666 |
| Storage | 512GB NVMe M.2 SSD | 512GB NVMe M.2 SSD |
| Screen | 14" 1080p 60Hz | 15.6" 1080p 60Hz |
| Size | 319 x 215 x 15.9 mm | 356.8 x 233.7 x 15.9 mm |
| Weight | 1.29 kg | 1.6 kg |
You'll be forgiven if you thought "great, the 14 inch has the same hardware inside but it's smaller and lighter, I'll go for that one!"
Unfortunately it's really not that cut and dry. The graph below shows the Cinebench performance from both laptops.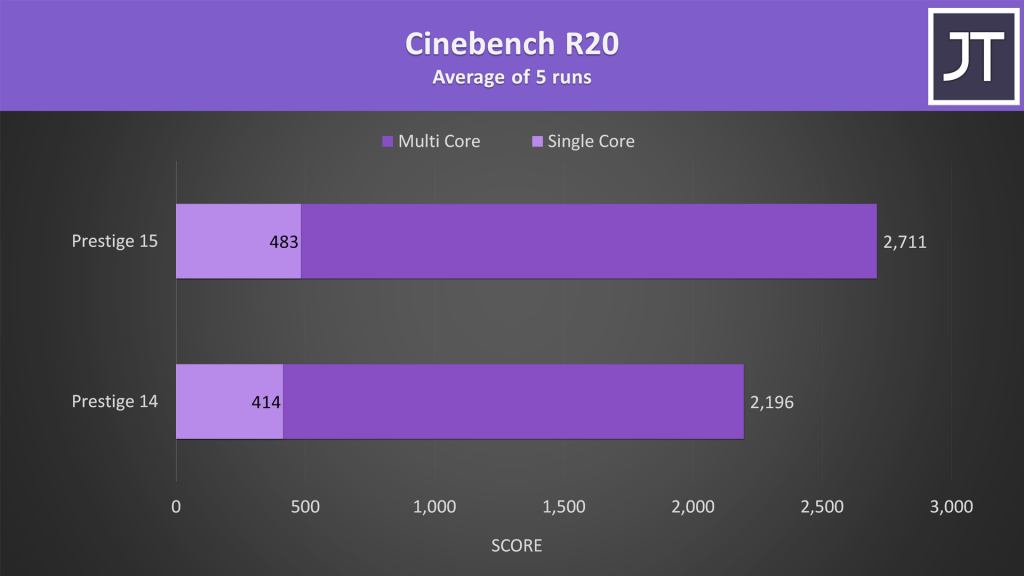 This is a measure of CPU performance. The Prestige 15 is scoring 23% higher despite both laptops apparently having the same processor.
The differences are even more severe when we take a look at gaming performance.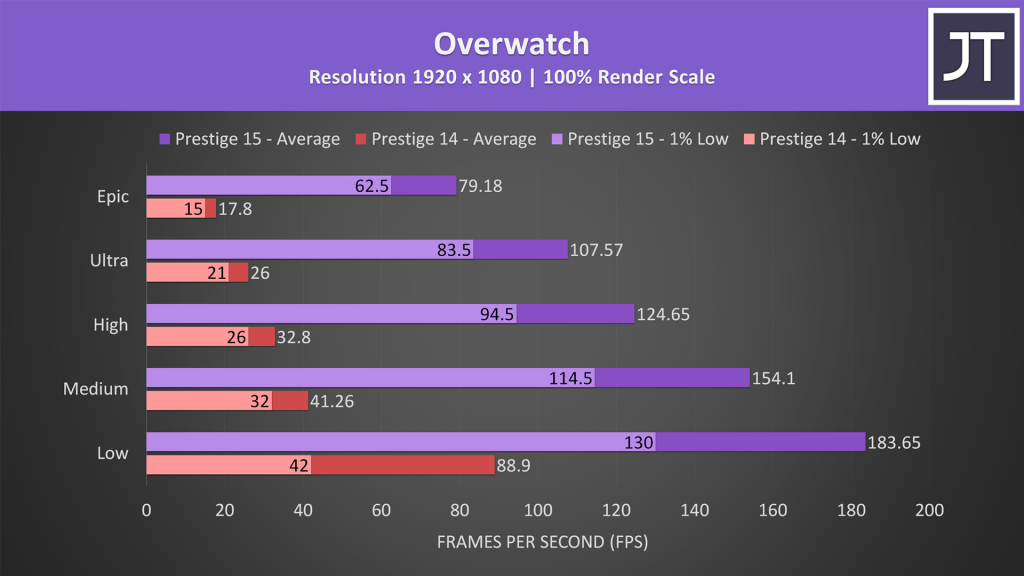 So what's the deal? There are a number of factors that will affect performance, primarily different limits.
Push it to the limit
Laptops have different limits in place to keep things safe.
Thermal Limits
You wouldn't want your CPU heating up so much that it melts. Fortunately, this doesn't happen as thermal throttling will kick in first. This will reduce performance by ensuring temperatures do not rise above some configured limit.
An example may be that a laptop never gets hotter than 90°C. Once this temperature is hit, the clock speeds are dialed back to prevent it heating up further, the goal being to maintain a safe operating temperature.
Power Limits
Power limitations also exist, and usually go hand in hand with thermals. If a laptop has a weak cooling solution, then it will probably have a lower power limit. More power typically equals more heat, so to avoid overwhelming a weak cooling solution, power limits may be restricted.
An example of this is that many modern i7 laptops have a 45W TDP. For many machines with such a limit, the power being used by the CPU will not increase above 45W, even if there is thermal headroom available. Depending on the machine, it may be possible to increase the power limit at the expense of thermals – that is to say, the machine will get hotter but performance should be improved as a result.
What's happening here
The Prestige 14 and 15 have the following power limits in the previous examples.
Prestige 14 – 15-30W GPU / 25-35W CPU
Prestige 15 – 35W GPU / 40-45W CPU
The limits need to be different due to the size difference between the machines, check out the internals.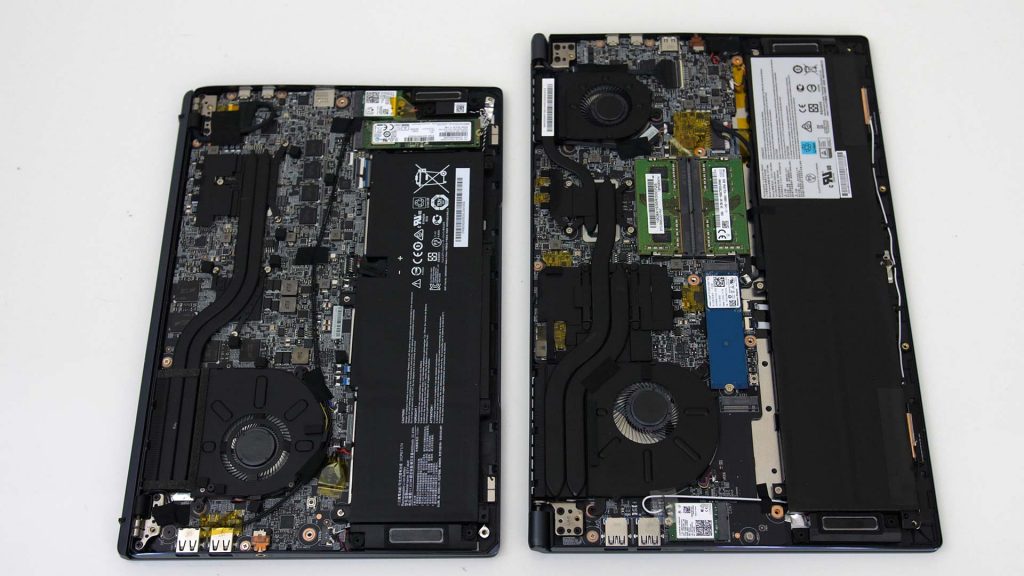 The larger Prestige 15 has superior cooling, so higher power limits should go down better, meaning a performance boost.
During the Cinebench test earlier, towards the end the Intel i7-10710U CPU  in the Prestige 14 was running at 25W, while the same CPU in the Prestige 15 was running around 40-45W. This explains the performance difference.
The Prestige 14 started out running better with a higher 35W limit, then 30W limit, before finally settling at 25W. This is an example of the power limit changing over time with respect to thermals, and this is why I take averages from multiple runs when reporting test results.
When gaming, the GPU in the Prestige 14 averaged 15W, while the Prestige 15 had no issues running at its 35W limit, so that explains the differences in gaming performance.


But wait, there's more!
Another issue is that power limits can vary based on the workload being run. It's not uncommon to see higher CPU power limits being reached when only the CPU is active and the GPU is idle. The CPU may be restricted further when the GPU is also active, such as when playing a game.
Some laptops will even dynamically adjust power limits on the fly as a means of keeping thermals in check. This means it even depends on the specific workloads being run, and don't forget about thermals!
As thermals can be a limit, depending on how close you are to thermal throttling, even a change of room temperature by a few degrees can be enough to negatively affect performance. The general rule of thumb is that for every 1°C increase to ambient room temperature, expect about the same to the internals.
Most laptops with the same CPU/GPU inside have different cooling solutions, so differences are expected. Generally, thicker laptops tend to have better cooling. One may thermal throttle, while another may be fine and perform better as a result. The one with better cooling may be configured with higher power limits, resulting in better performance at the expense of some extra heat – it's a trade off.
When you factor all these variables in, it's easy to understand why performance for the same machine can vary between different reviewers.
The solution?
Unfortunately there isn't an easy one, there are just a number of different factors that affect performance that are impossible to be aware of when reading a spec sheet.
The only way to really understand what's actually going on with each machine is to check out independent reviews. This is why I try to perform all sorts of different testing in my detailed reviews, however this means the buyer needs to spend a lot of time researching.
The majority of people have no idea about the different limits discussed here. They will simply assume that if two machines have the same specs, then performance is probably quite comparable.
Unless there is some sort of standard testing methodology to show this information that all companies start using, then third party testing will be the only way to know for sure how a laptop will actually perform.
To be fair, in many instances the differences are far less than what I've shown here. The MSI Prestige 14 and Prestige 15 are more of a worst case example, but one that helps illustrate the point clearly.
Hopefully the next time you're looking to buy a new laptop, you know why it's worth checking reviews containing this information rather than just shopping the spec sheet.