ASUS ROG Zephyrus G14 (2022) Review
The ASUS ROG Zephyrus G14 gaming laptop has a LOT of nice upgrades this year! This review will cover the improvements to help you decide if the new 2022 G14 is worth buying! Check current prices here – https://geni.us/a7wwQs


Specs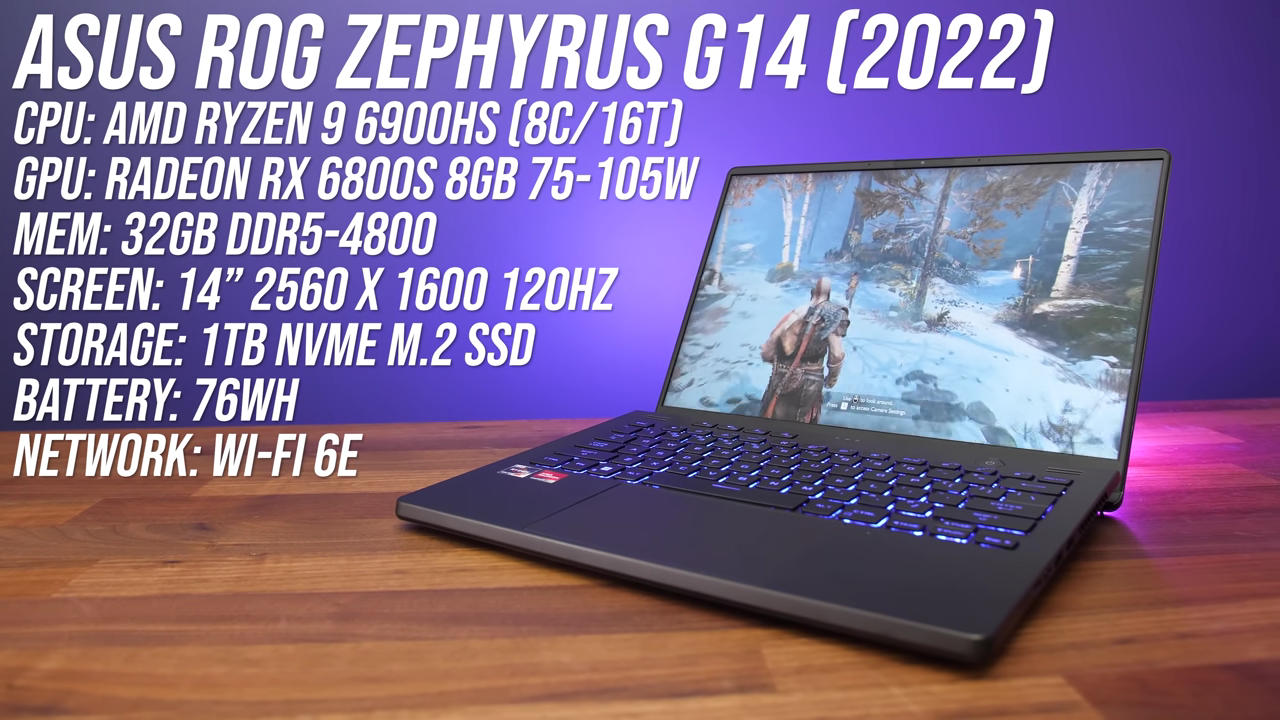 I have the most powerful G14 configuration, including AMD's Ryzen 9 6900HS eight-core processor, Radeon RX 6800S graphics, 32 gigs of DDR5-4800 memory, and a 14-inch 120Hz screen. The G14 is available in two colors: moonlight white and the darker Eclipse Gray that I've got here.
Size & Weight
The laptop weighs 1.7 kilos (3.8 lbs) on its own and 2.4 kilos (5.4 lbs) with the 240 W power brick and cables included. It's small for a 14-inch device, but the version I have with the lid lighting is slightly thicker than the one without.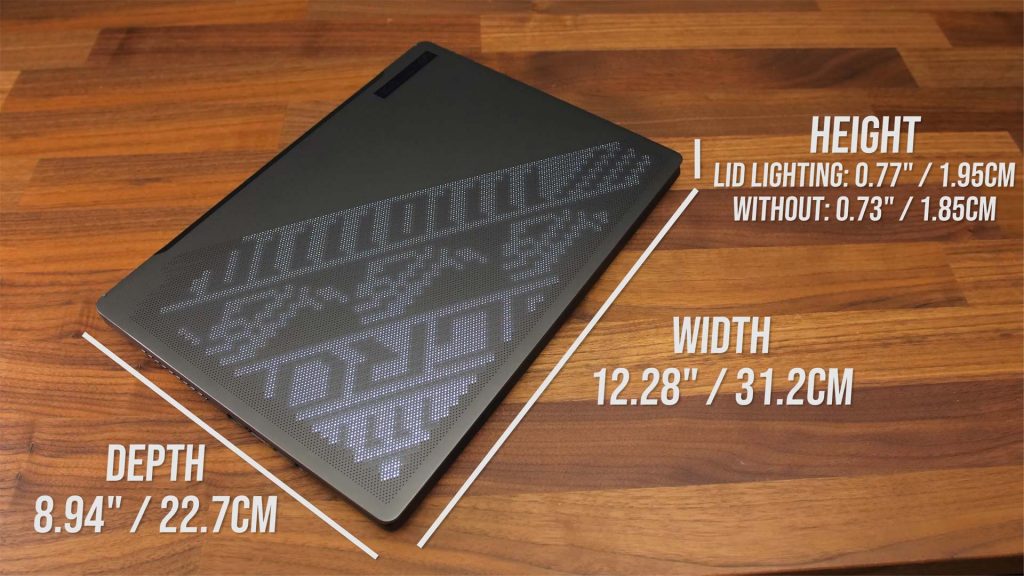 This year's 14-inch screen is 16:10, giving you more vertical space when sitting in front of the laptop. Another change this year is the addition of a MUX switch to bypass the integrated graphics and gain a performance boost in games, and we get the same free sync range with either Radeon GPU in use.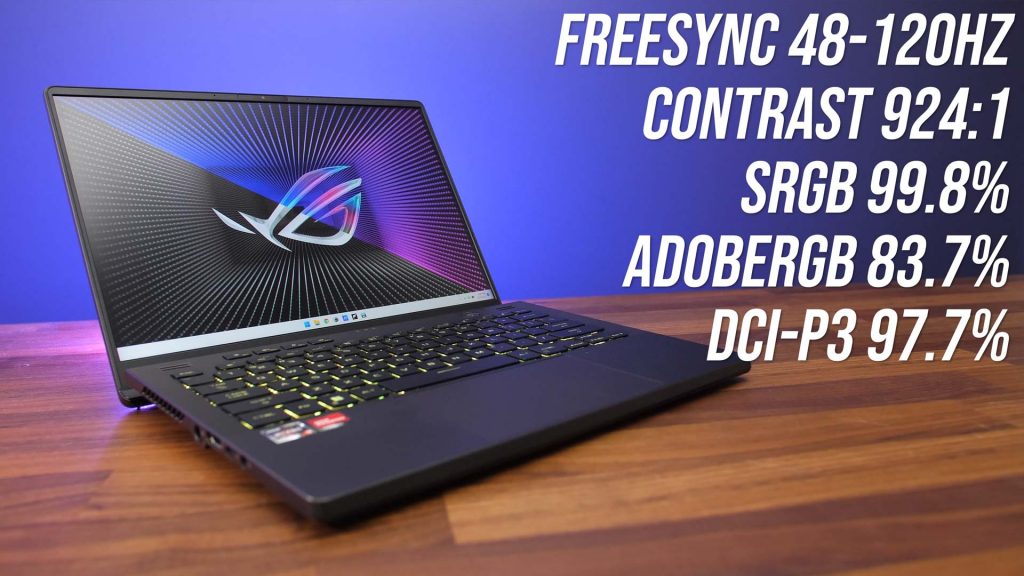 The screen has an excellent color gamut and looks great, though the contrast was lower than I would have preferred. The screen gets fairly bright, at full brightness it exceeds 500 nits. Some laptops struggle to reach 300 at full brightness, but the G14 managed it at 70%.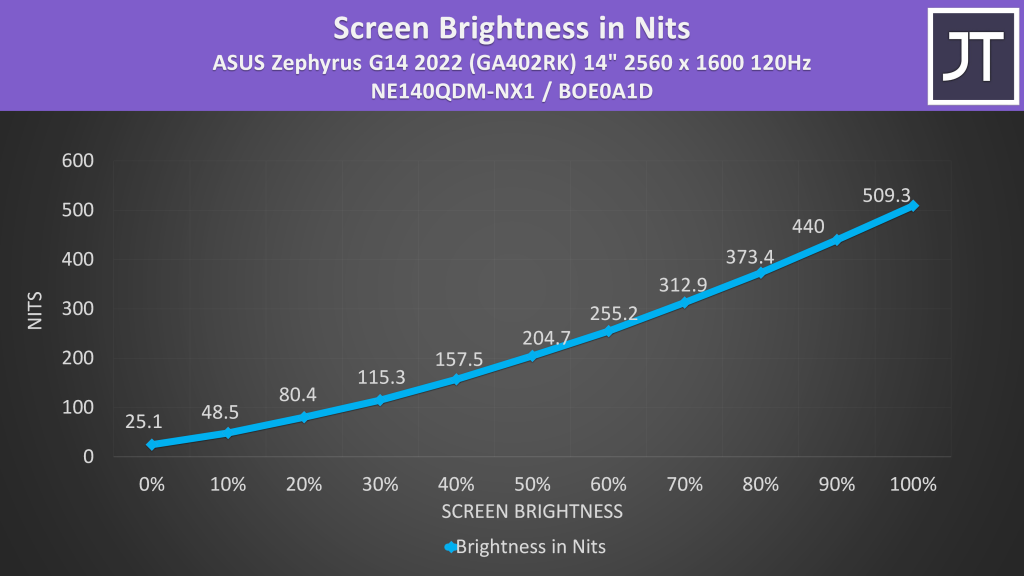 The control panel for the laptop, the Asus Armory Crate software, allows us to enable or disable panel overdrive. With overdrive enabled (default), we're looking at a 4.9ms average grey-to-grey response time. Last year's G14 time was 9 ms, while the year before was nearly 21 ms. As a result, this year's G14 is by far the best. It's also faster than last year's Blade 14, but this may change soon as I'm getting the 2022 Blade 14 shortly!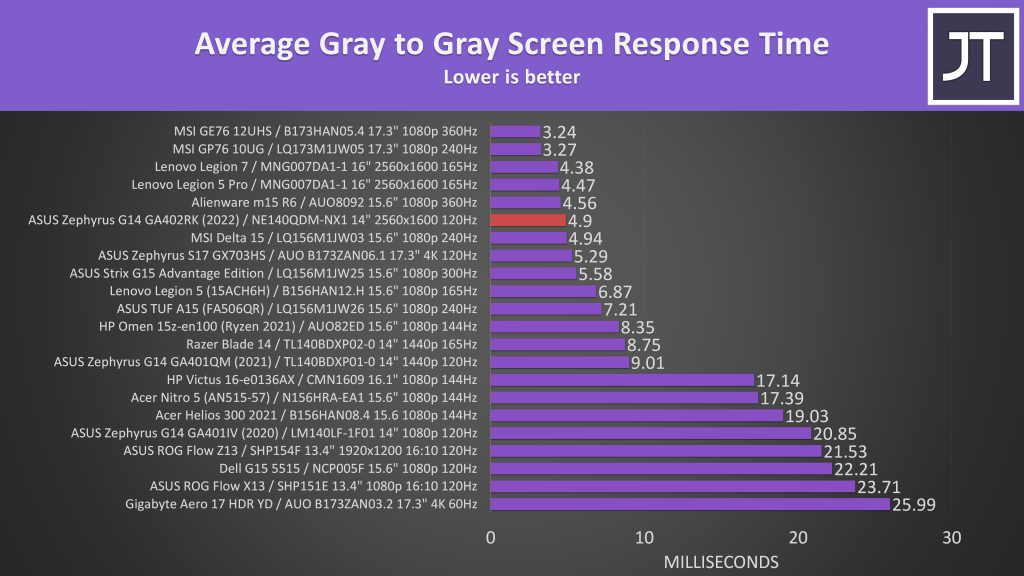 This also contributes to the G14 having a lower total system latency. This is the time it takes between a mouse click and a gunshot being fired on the screen in CS:GO, and it's ten milliseconds faster than last year's G14. This is fantastic news for competitive players.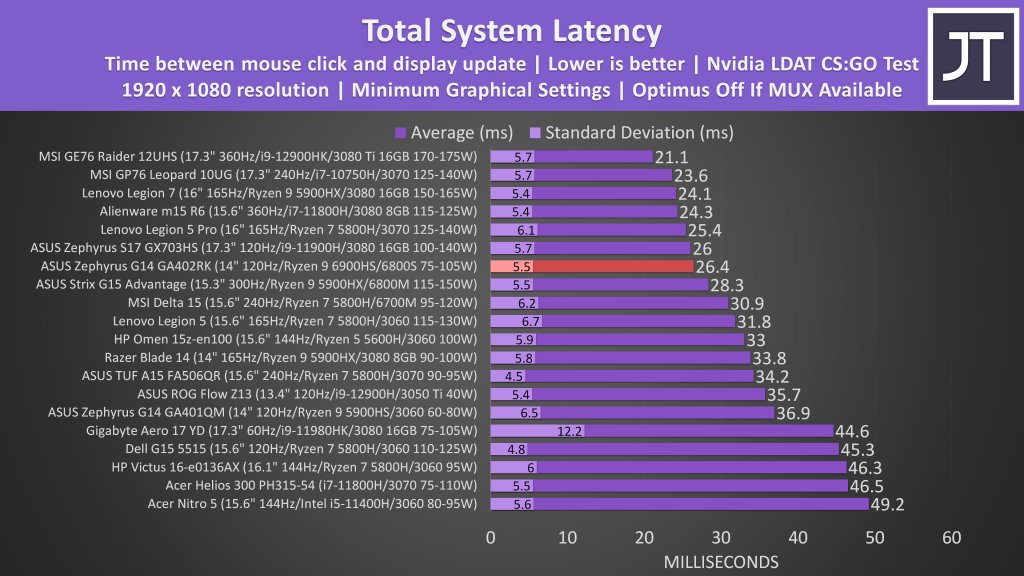 My G14 had no noticeable backlight bleed, but this will vary depending on the laptop and panel.
Camera & Mic
There's a 720p camera above the screen in the middle, which older G14s lacked, and it has IR for Windows Hello face unlock.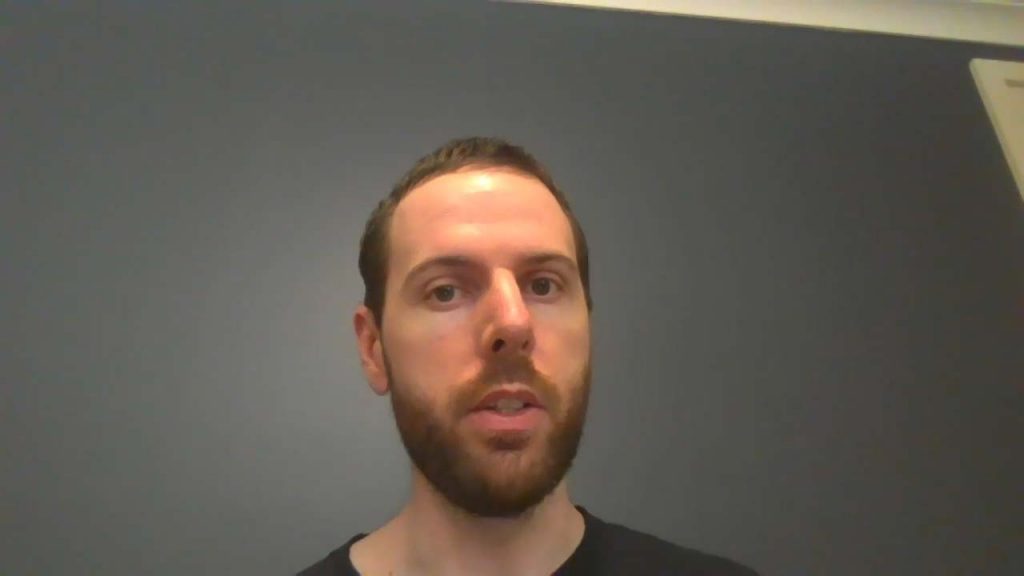 Keyboard & Touchpad
This year, the fingerprint scanner has been removed in favor of using the camera to unlock the device.
The chiclet keyboard has a single zone of RGB backlighting and a travel key of 1.7 mm. All keys and secondary functions are illuminated, and key brightness can be adjusted using the F2 and F3 shortcuts. I enjoyed using the keyboard.
There are also four shortcut buttons above the keyboard on the left that can be customized to change the volume, mute the microphone, or open the Asus Armory crate software. The touchpad is 50% larger than last year's model and feels fantastic to use. The clicking felt smooth and precise.
I/O Ports
The left side features an air exhaust vent, a power input in the center, an HDMI 2.0 B port, a USB 3.2 Gen 2 Type-C port, and a 3.5-millimeter audio combo Jack. The right side has a UHS-II micro SD card slot, new to this year's model. It also has a USB 3.2 Gen 2 Type-C port, two USB 3.2 Gen 2 Type-A ports, and an exhaust system.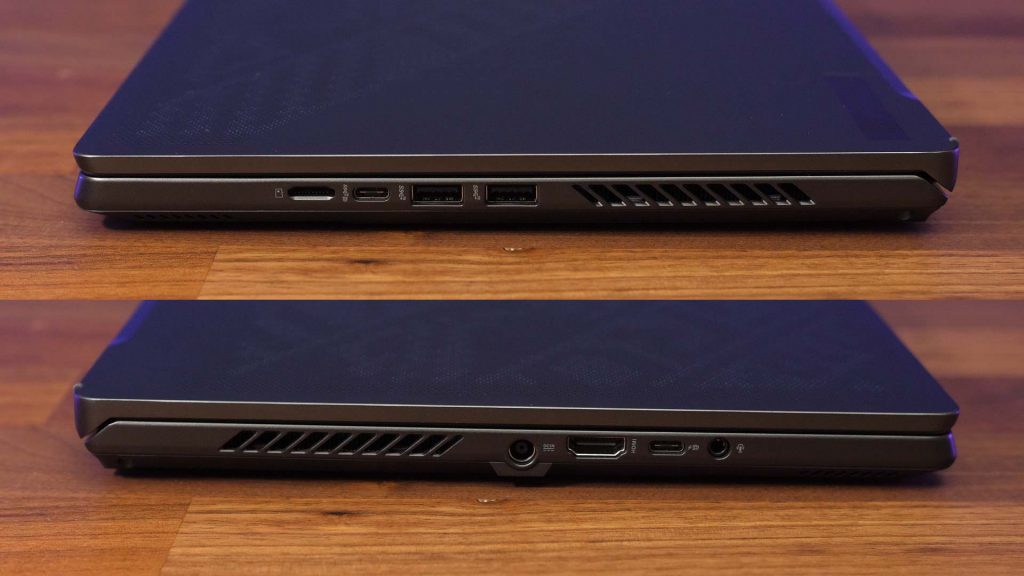 The HDMI port on the left is directly connected to the RX 6800S graphics, and it appears to have variable refresh rate support, as my external monitor supported FreeSync. The left Type-C port can charge the laptop, and it also has DisplayPort support for connecting to the integrated graphics whether the MUX switch is turned on or off. On the other hand, the right Type-C port connects to the more powerful 6800S graphics. It cannot, however, be used to charge the laptop. I should also mention that Asus has stated that the G14 will receive USB4 support in a future update.
Design & Build Quality
Air exhaust fans are located on the left and right sides of the back. With the lid open, the air was exhausted beneath the screen rather than out the back. The front lacks a dedicated area for your finger to enter to open the lid, but I found it simple enough to do anywhere. For sharing, the screen goes back 180 degrees. When the lid is open, the rear raises the laptop up. This helps in 3 ways – cool air can easily get in underneath, the angle for typing is slightly inclined, and the speakers underneath aren't pressed directly against your desk.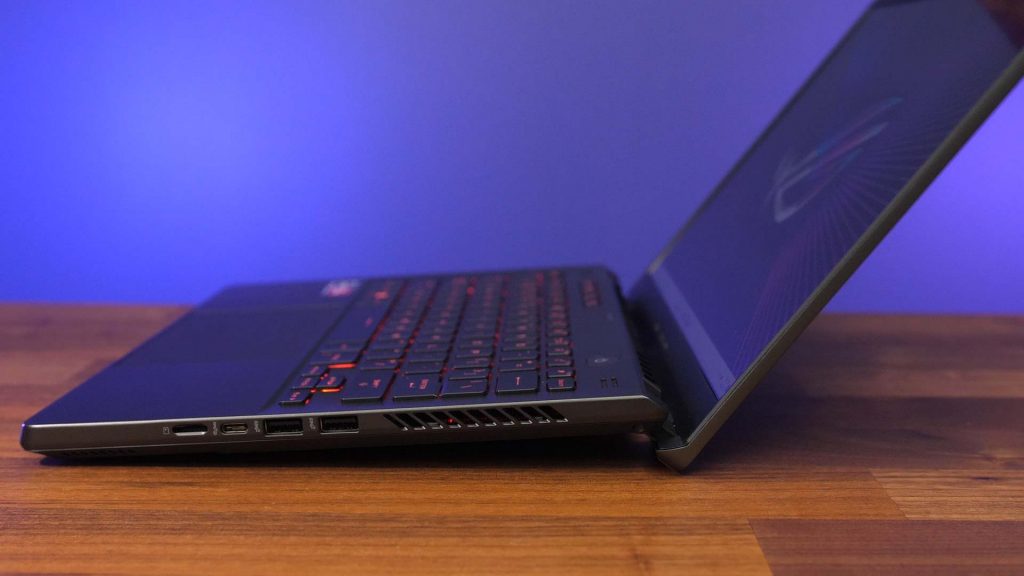 The keyboard has some flex due to this design, but it felt quite solid during normal use. Similarly, the screen has some flex, but it never wobbles when typing. The optional anime matrix display is on the lid as with previous G14 models, and this year's version has more holes and lights to make it look better than before.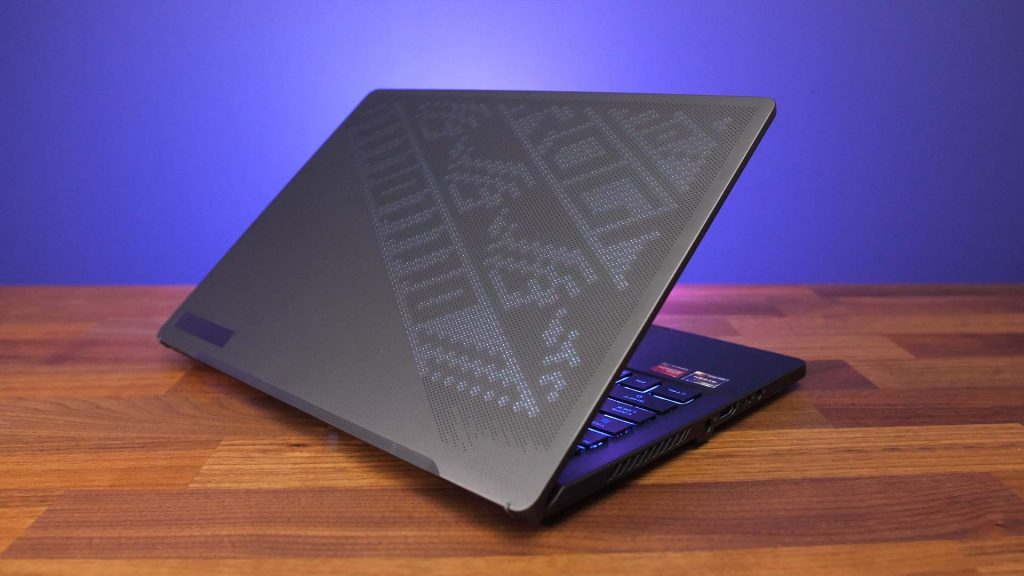 Internals & WiFi
Getting inside was simple using these tools. 11 Phillips head screws are used. Rubber pieces cover the three in the middle, and the four down the front are shorter than the others, except for the front right one, which does not come out of the panel and lifts to allow you to pry it open.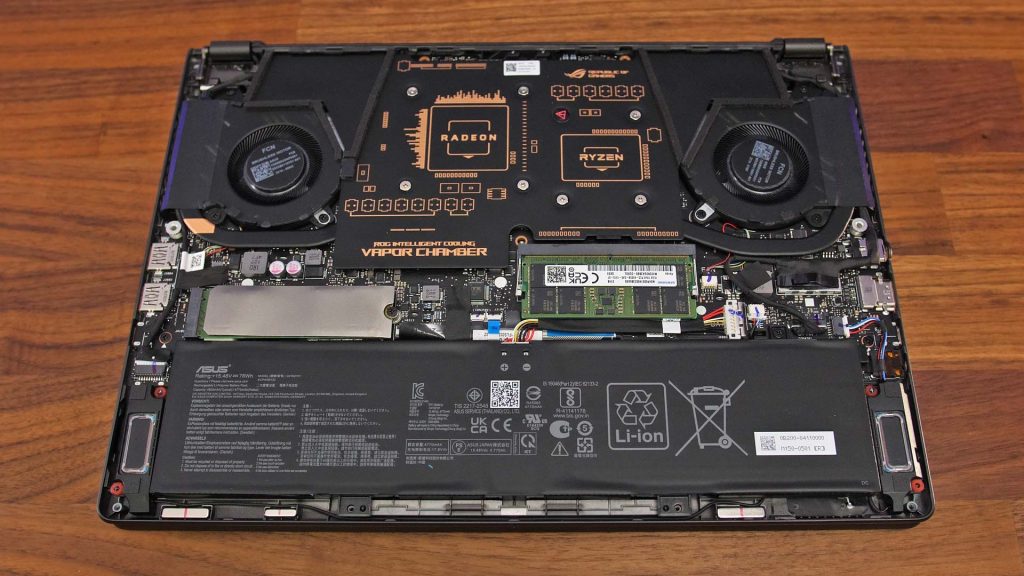 Inside we've got the battery down the front, a single memory slot above the middle, and a single PCI-E Gen 4.0 M.2 storage slot to the left. The WiFi 6E card is hidden beneath the installed SSD, and it was producing the fastest results I'd ever seen from a Mediatek card. It's also my first time using the 922 card. All of the others are 921, so I guess higher number means better!

Because AMD's new Ryzen 6000 processors only support DDR5 4800 memory, that's what it's got. There is only enough room for one memory stick. You get either 8 or 16 gigabytes of DDR5 memory soldered to the motherboard. Yes, that's a smaller memory upgrade than most larger 15-inch gaming laptops, which allow you to install two sticks, but for 14-inch gaming laptops, this is currently the best option. The Razer Blade 14 and the new Alienware X14 have all of their memory soldered to the motherboard, so you can at least tweak this one a little. It's a 14-inch device, so there is less space, I get it.
Speakers
This year, the front-facing speakers have been moved to the back so that your hands don't cover them. Some are also found below, on the left and right sides, towards the front. They sounded better to me than last year's model. Above average for a gaming laptop with a little bass, and quite good at medium volume, but maxed out results in a lot of palm rest vibration, and they start sounding muffled. I thought I heard some speaker popping at one point at higher levels.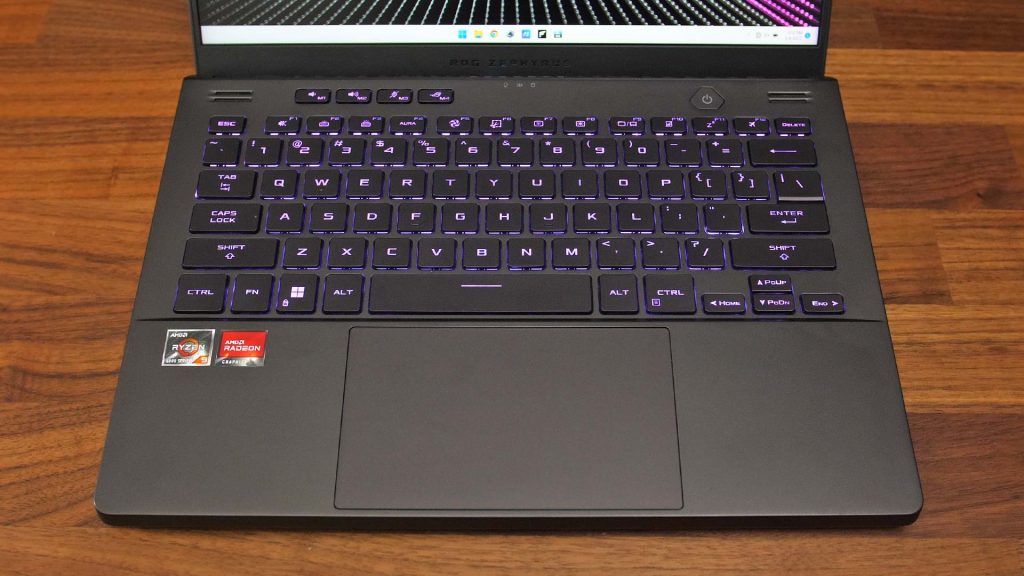 Battery
The G14 is powered by a 4-cell 76Wh battery, and Asus have some nice options to help improve battery life. Panel Power Saver is the first option, and it is enabled by default. When you unplug the laptop from the charger, the screen will flash black, while the screen will lower to 60 Hz, and the overdrive mode will turn off to conserve power. When we enable Optimus, we can choose between Eco Mode, which disables the discrete GPU for maximum battery life, and Optimized Mode, which only disables it when we're running on battery power.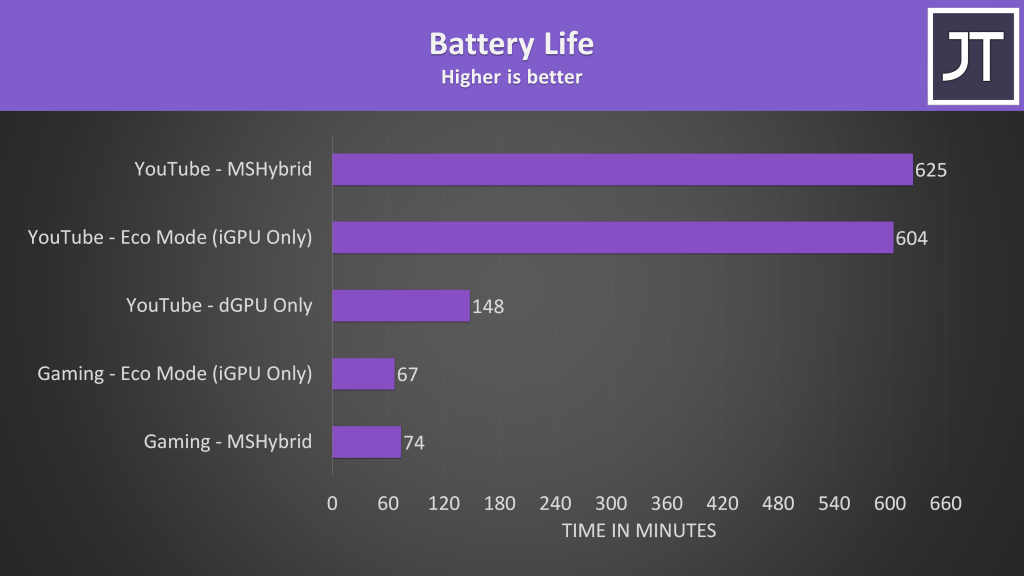 Interestingly, I got a slightly shorter runtime with Eco-Mode enabled, though only by 21 minutes. We get far less runtime if we run the test in discrete mode with the integrated graphics turned off. I also tested with a game. Like the video playback test, this test lasted a little less with only the iGPU, so we're not seeing corresponding battery life improvements, even though the new 680M integrated graphics can run games.
When compared to other gaming laptops, the G14 performed well. The video playback test lasted 12% longer than last year's G14 with the same sized battery, or 33% longer than the 2020 G14, though both of those older models lasted longer with the game running.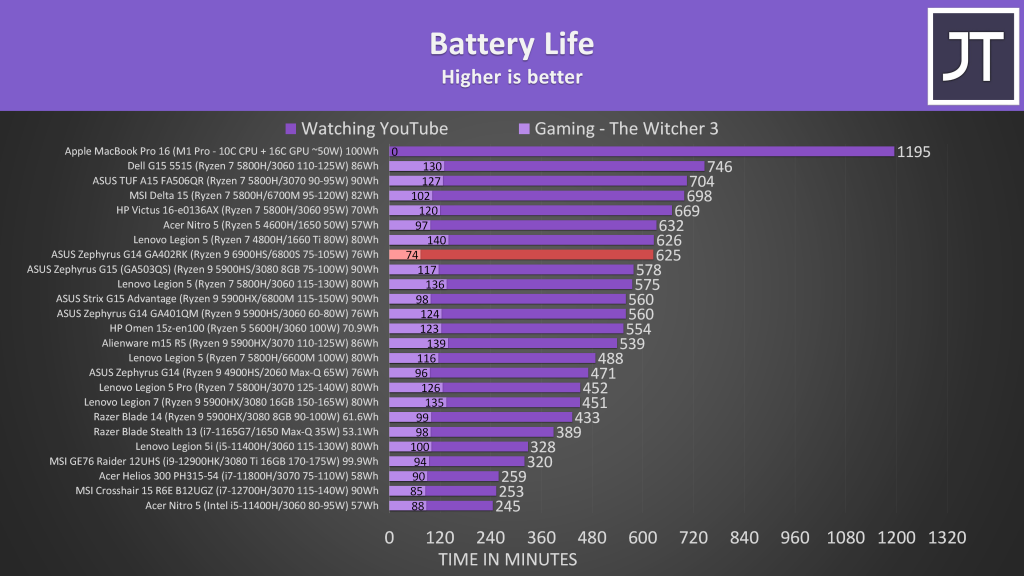 Thermals
A vapor Chamber cooler covers everything inside, and Thermal Grizzly liquid metal is used on the CPU and GPU. The Asus Armory Crate software allows us to switch between different performance modes: Silent, Performance, Turbo, and Manual. Manual mode gives us some control over the CPU and GPU fan curves and the ability to modify power limits.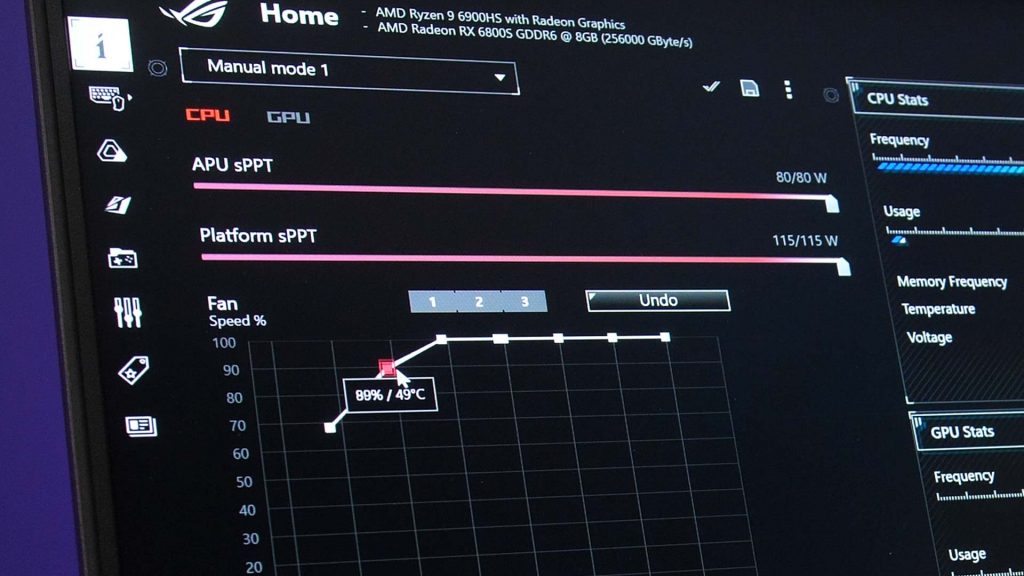 Temperatures / Clock Speed / TDP
The temperatures were fine when doing nothing at idle. The remaining tests used a combination of CPU and GPU stress tests to simulate the worst-case scenario. There isn't much of a difference. When we switch from Silent to Performance mode, we get slightly warmer than when switching to Turbo mode. With the fans now manually maxed out, Manual mode was noticeably cooler on the GPU, and the cooling pad I tested with was able to lower it even further. According to the hardware info, the processor experienced thermal throttling at 96 degrees Celsius, which the cooling pad eliminates.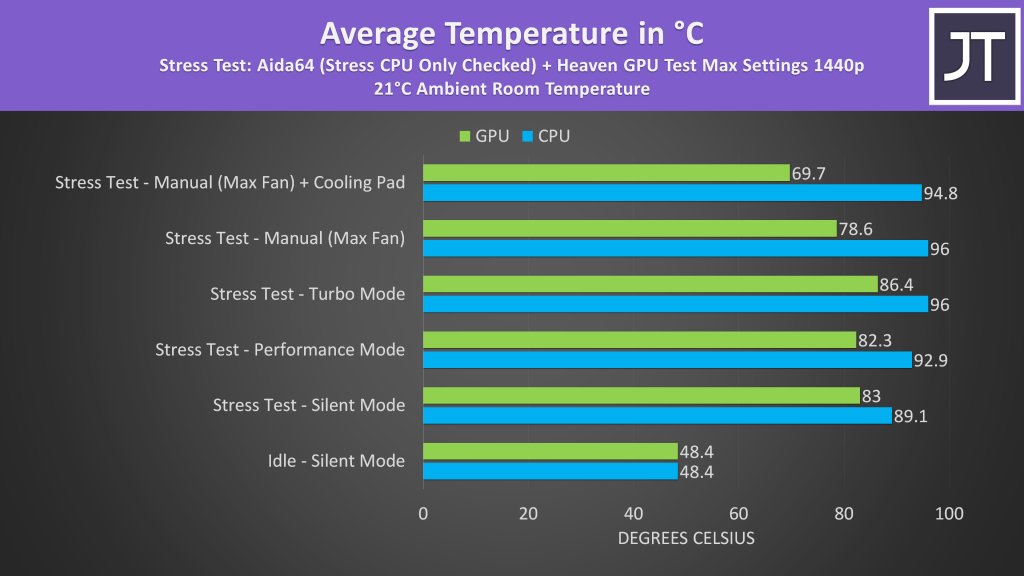 Like other Asus laptops, Turbo Mode provides the best GPU performance. Manual mode was a little slower, but the CPU was clocking faster in manual mode. The cooling pad provides an additional 300 MHz to boost across all eight cores because thermal throttling is reduced, if not eliminated, in this workload.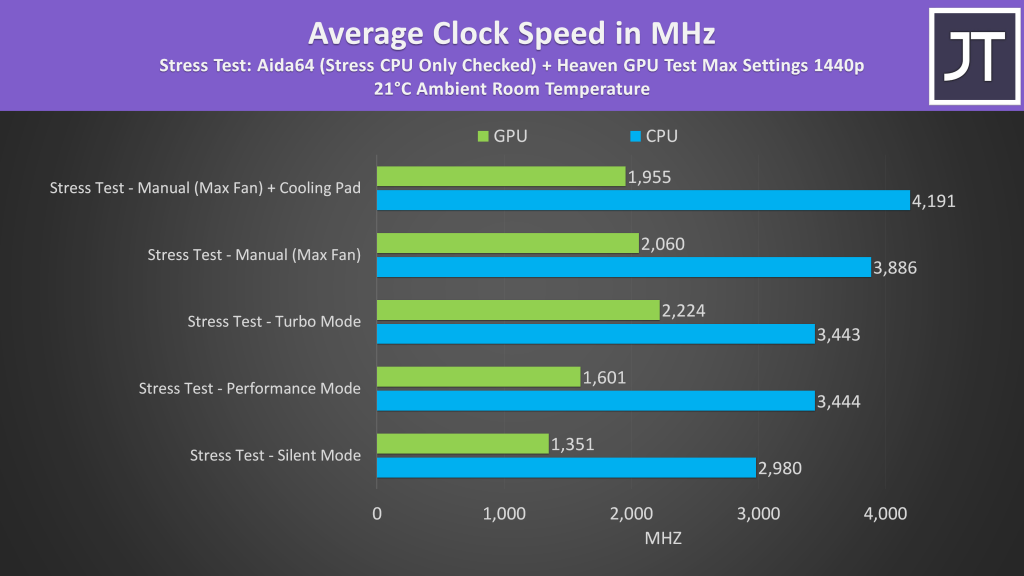 Because of AMD's SmartShift, the power levels attained are all over the place. Lower modes, as expected, have a lower power budget. Manual mode with the higher fans allows the CPU to boost up more by reducing thermal throttling, but this takes power away from the GPU in this stress test.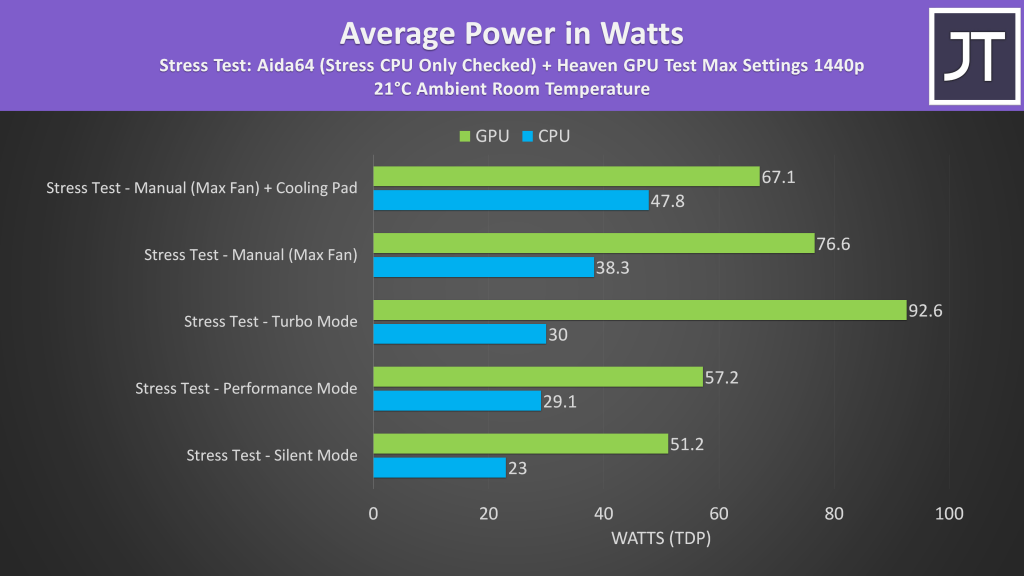 The keyboard temperature was around 30 degrees Celsius at idle, typical for most laptops. It warms up as the stress tests run, but the wrist rest and WASD area remain cool. Performance mode was very similar, with hot air being dumped onto the bottom of the screen. Turbo mode was similar, though the left and right sides were quite uncomfortable to touch when under load; I suppose you don't need to touch there though. Setting the fans to maximum speed reduced the temperature in the center of the keyboard, but it comes at the expense of louder fans.
You can check how the G14 fan noise compares against other gaming laptops here.
Game Performance Comparison
Although the G14 has a native 2560×1600 screen resolution, I've got data for standard 1080p & 1440p so this is what we'll use for the purposes of comparing. I also have a video explaining how the G14 performs at its native 2560×1600 resolution in more than ten games at all setting levels with features like FSR and Ray tracing.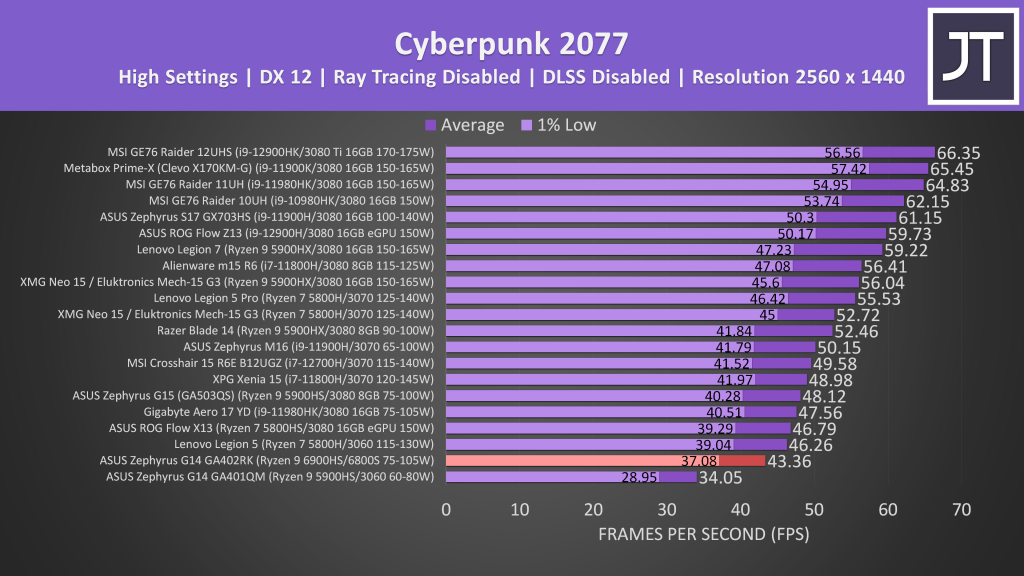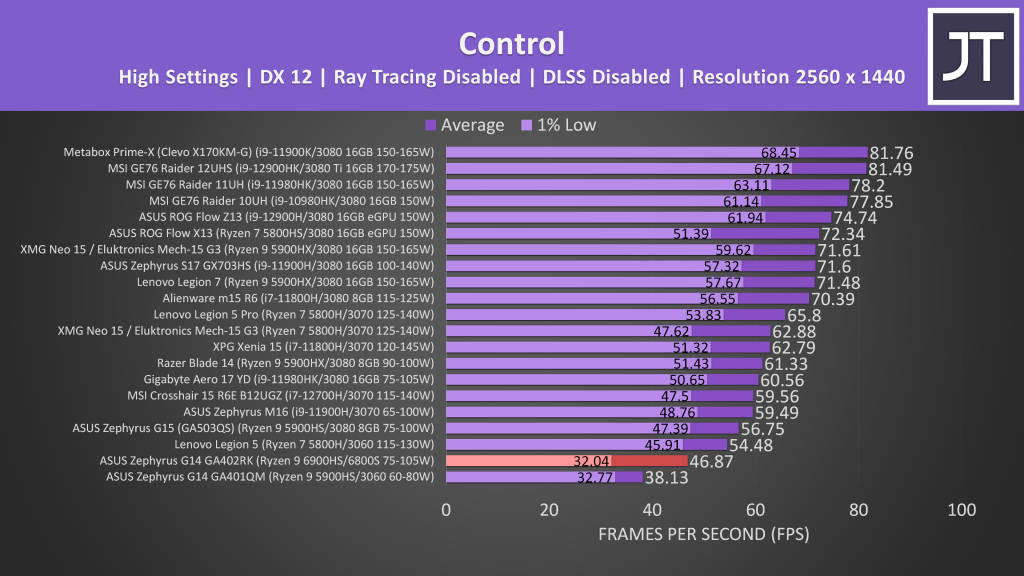 Although lower compared to thicker and larger gaming laptops in most cases, consider where we're coming from. The 6800S is doing significantly better compared to last year's maxed out RTX 3060 Zephyrus G14.
iGPU 680M Gaming Performance
I also compared a game with and without the 6800S graphics disabled to see what the Radeon 680M iGPU is capable of. The outcome was quite surprising. Other 1650 laptops with lower power limits aren't far behind.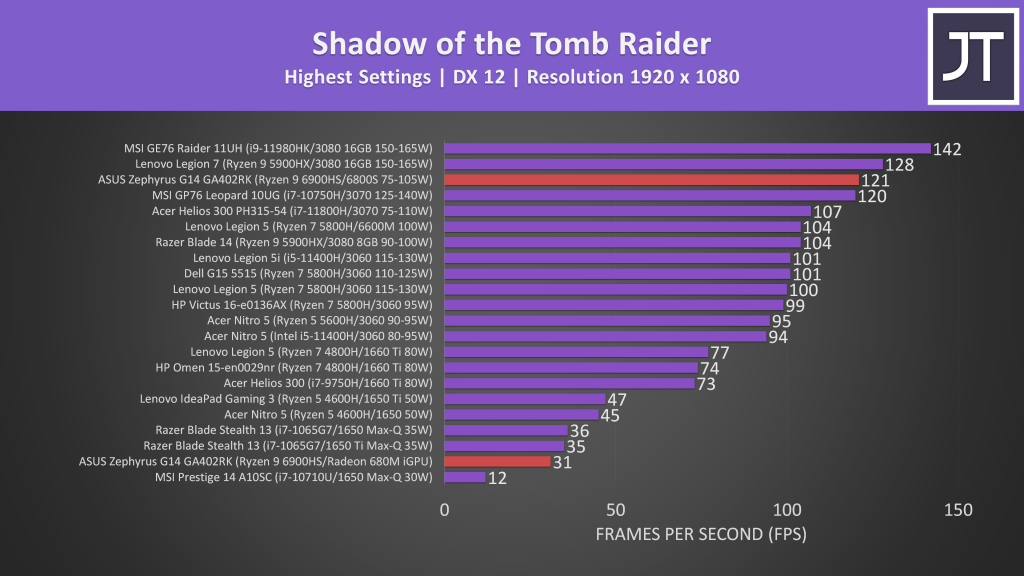 As we saw earlier in the battery test, gaming on the integrated graphics did not provide us with additional runtime, so I'm not sure why you'd want to play a game on the iGPU.
Driver Stability
In terms of driver stability, things were fine and worked well for most games. The only time I didn't was when I was running Shadow of the Tomb Raider tests on the integrated graphics. The game kept crashing, and I had to restart it several times before it finally worked. I'm not sure as it was just that one game, it was the only one I tried to run with the 6800S turned off. Another thing to note is that when we first started Far Cry 6, it opened on the integrated graphics, so we had to manually select the 6800S. It's not a big deal, but it's something I've never experienced with an Nvidia laptop, so hopefully, they can fix it in an update.
Content Creation
Adobe Premiere was tested using the Puget Systems benchmark, which typically does not perform well with Radeon graphics. I'm not sure if Adobe needs to better optimize for AMD, but it's roughly the same as last year's Nvidia-based G14. To be fair, it outperforms all larger Radeon models tested last year.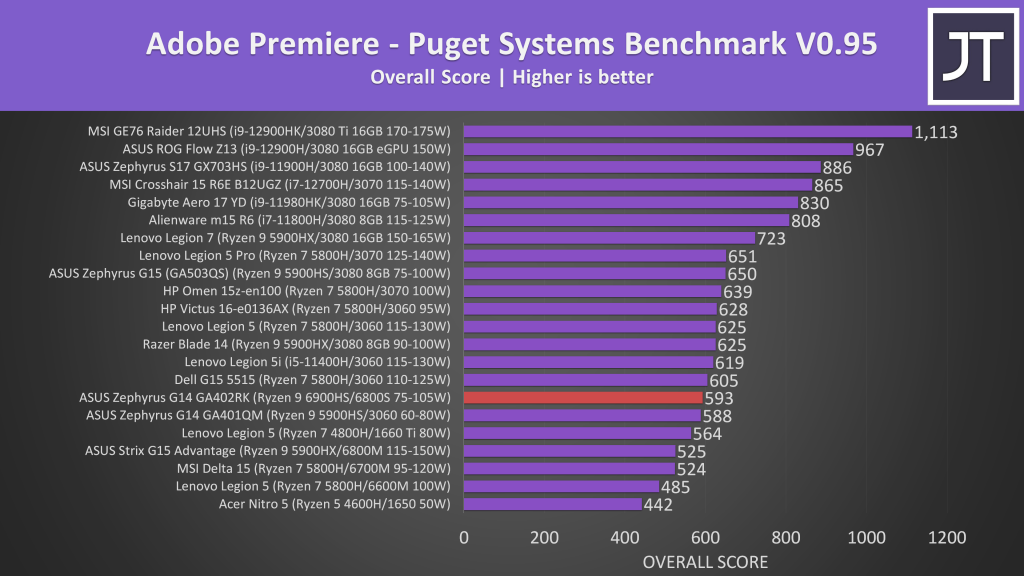 On the other hand, Adobe Photoshop is far less concerned with discrete graphics. The Ryzen 9 6900HS performed well here, outperforming almost every other laptop I've tested except for MSI's maxed out GE76, which is much larger and more expensive than the G14.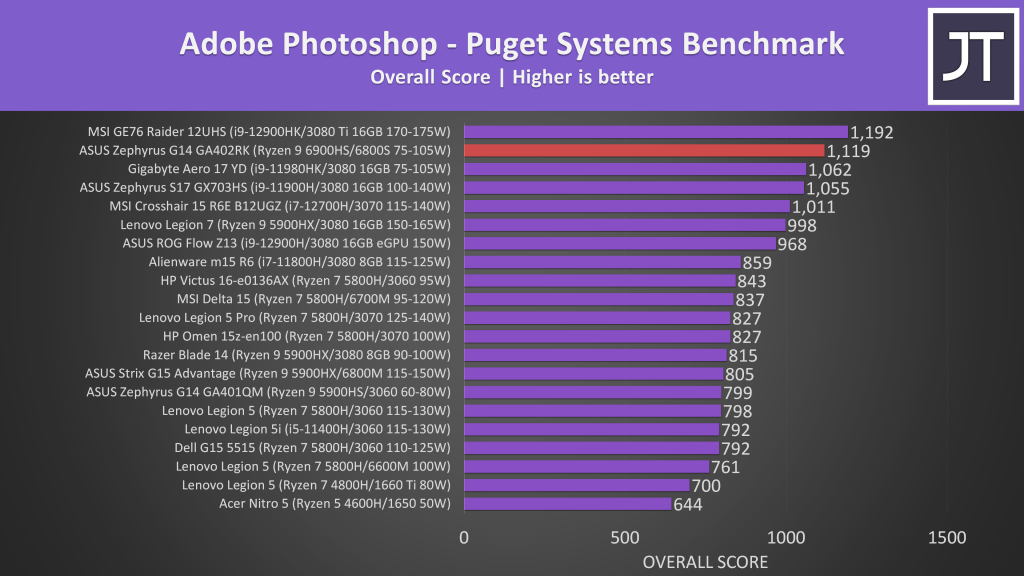 Davinci Resolve is more GPU-intensive, and the 6800S performed well for its size, falling between the RTX 3060 and 3080 models.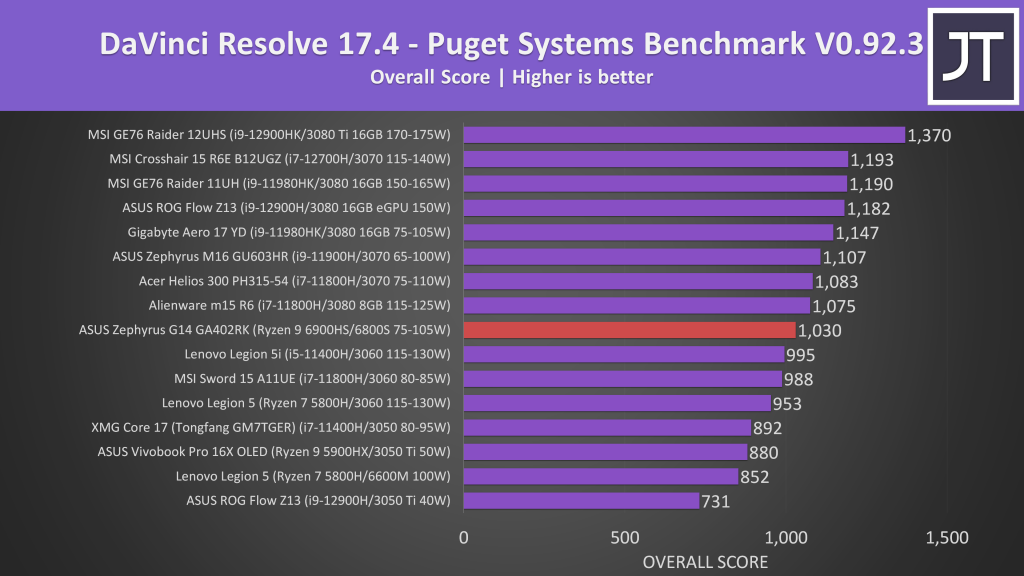 SSD & Micro SD Card Speed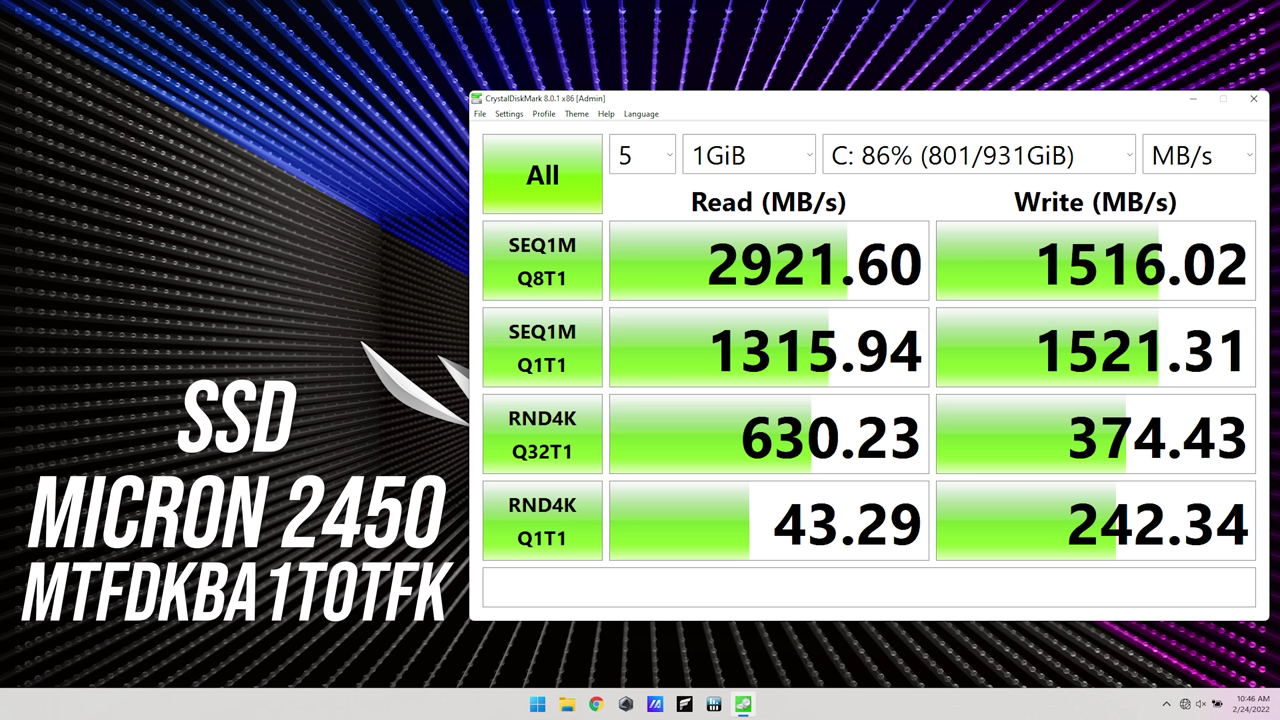 Even though Ryzen 6000 processors support PCI-E Gen 4 storage, and the Asus product page lists a 1TB PCIe 40 SSD, the sequential read and write speeds were more in line with a typical PCI-E 3.0 SSD. The UHS-II Micro SD card slot performed admirably in reading (187MB/s) and writing (159MB/s) speed. The card clicks in and sits almost entirely inside the machine, eliminating the possibility of it being bumped and snapped.
BIOS
The BIOS felt pretty empty. Outside of the standard basic settings, there aren't many options to change. This is in stark contrast to the recent MSI laptops I've reviewed, which give you the option of unlocking more advanced settings.
Linux Support
Linux support was tested by booting an Ubuntu 21 Live CD. The keyboard, touchpad, and camera all function properly. WiFi didn't work right away because MediaTek requires drivers that aren't included with this OS. Shortcuts for keyboard brightness and volume adjustment and speakers worked fine, but shortcuts for screen brightness or changing performance modes did not.
Pricing & Availability
Next, let's talk about pricing and availability. This will change over time, so check here for current G14 prices. The configuration I tested, but with half the memory, costs $1900 USD at Best Buy in the US, but they also have the RX 6700S configuration for $250 less. Last year's model is also now cheaper and quite competitive, though with fewer features. You can see the top 9 improvements to this year's 2022 G14 compared to last year's 2021 G14 here.
Is it Worth it?
Overall, this year's G14 significantly improves over last year's model. We have a better screen, a MUX switch, a larger touchpad, a micro SD card slot, a vapor chamber cooler, better speakers, a camera, and more CPU and GPU power. That's a nice list of changes, but they're not free.
The G14 is more expensive this year, and with last year's model on the market, you'll have to decide how much you value these extra features. It bothered me that the sides could get hot to the touch. It's probably not a big deal because you don't need to touch there, but I noticed it while using the machine, even when I wasn't doing much. Smaller-sized laptops with good performance typically cost more, but if you're willing to spend more for increased portability, this year's G14 is a gaming laptop I can recommend. All of these G14 enhancements are shaking up the 14-inch gaming laptop market.
Make sure you're subscribed to my YouTube channel so you don't miss out on future comparisons between the G14 and Razer's new Blade 14, and Alienware's new X14.