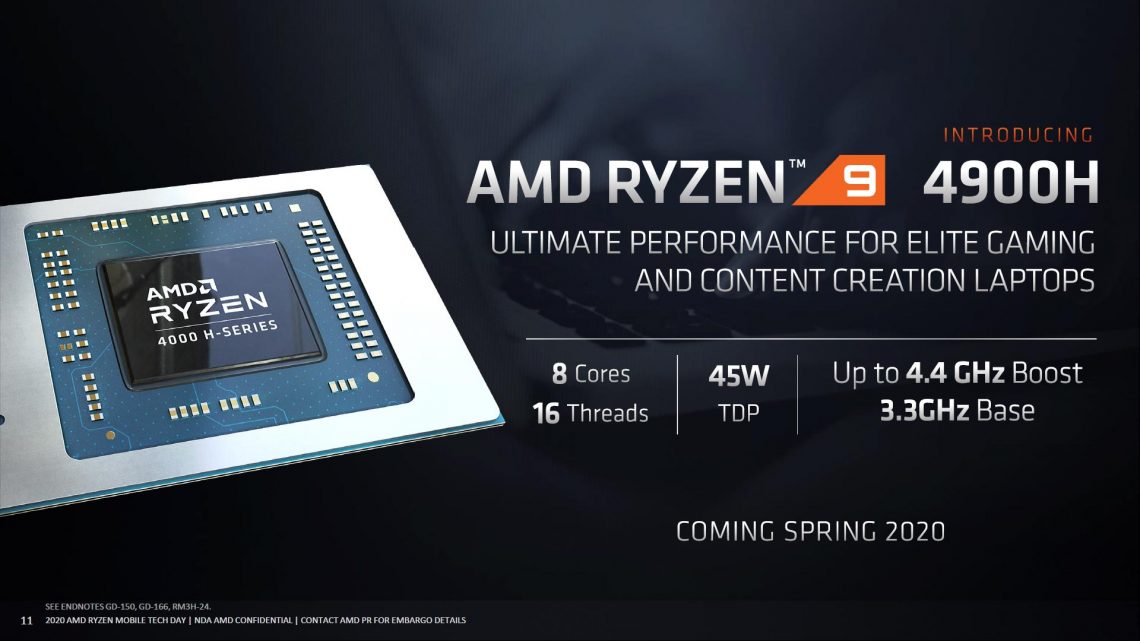 AMD Ryzen 9 4900H and 4900HS CPU Specs Are Here!
The new AMD Ryzen 9 4900H and 4900HS laptop CPUs are here for gaming laptops! Let's discuss the specs and find out how they compare with other options.
4800H no longer top of the Ryzen mobile food chain
At CES 2020, AMD announced most of the Zen2 mobile processor lineup, topping out with the 4800H, however today we've now got information on the new Ryzen 9 4900H and 4900HS – let's start with the specs:
| | Ryzen 7 3750H | Ryzen 7 4800HS | Ryzen 7 4800H | Ryzen 9 4900HS | Ryzen 9 4900H |
| --- | --- | --- | --- | --- | --- |
| Cores / Threads | 4 / 8 | 8 / 16 | 8 / 16 | 8 / 16 | 8 / 16 |
| Base Clock | 2.3GHz | 2.9GHz | 2.9GHz | 3.0GHz | 3.3GHz |
| Boost Clock | 4.0GHz | 4.2GHz | 4.2GHz | 4.3GHz | 4.4GHz |
| Cache | 4MB | 12MB | 12MB | 12MB | 12MB |
| Graphics Cores | 10 | 7 | 7 | 8 | 8 |
| Graphics Frequency | 1,400MHz | 1,600MHz | 1,600MHz | 1,750MHz | 1,750MHz |
| Architecture | Zen+ | Zen 2 | Zen 2 | Zen 2 | Zen 2 |
| TDP | 35W | 35W | 45W | 35W | 45W |
In terms of specs, there doesn't appear to be that big of a difference between the 4800H and 4900H. We're just seeing a 200MHz higher boost speed, which likely only represents best case single core boost. It's difficult to know how well each perform until I have them in for testing.
The cache is otherwise the same, and even the TDP, however there's a difference in the graphics. The Vega graphics are a little more powerful with the 4900H/HS.
I'm not sure how important this will be, it depends what sorts of laptops we see these chips in. For instance, most likely mid to high end gaming laptops will likely use these processors, but will also probably be paired with more powerful discrete Radeon or Nvidia graphics. In those cases, this could make the built in Vega graphics less useful.
Of course if you have a laptop without discrete graphics then it could be a different story. It's worth noting that although the 3750H from last generation has more graphics cores, due to improvements that AMD were able to make with 7nm Vega they're still able to get more performance and clock it higher.
AMD Ryzen 9 4900H performance
Despite not having a 4900H/HS laptop to test with just yet, AMD did provide the following performance numbers: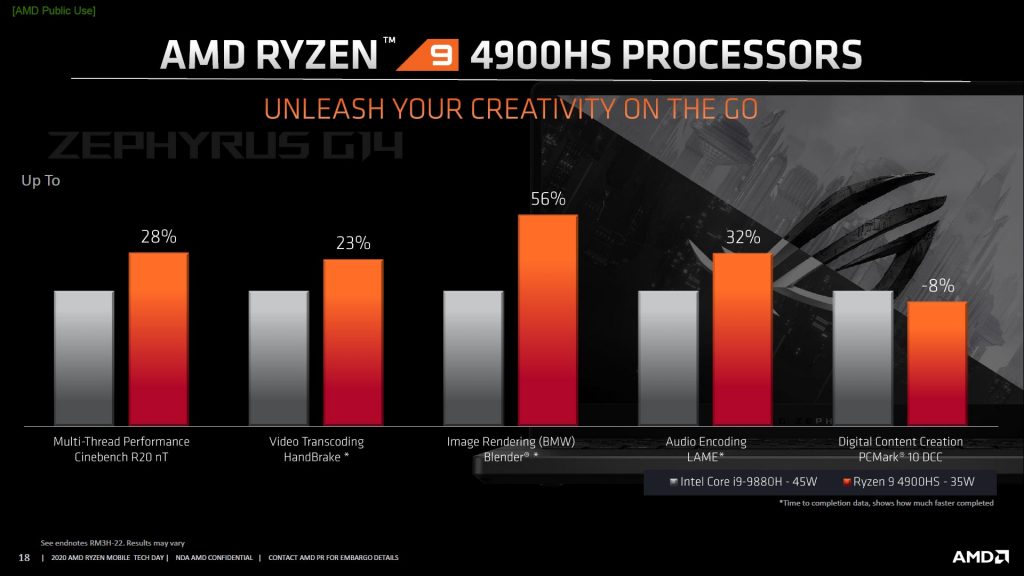 It's quite interesting that for the most part AMD claim that the 35W 4900HS demolishes the Intel core i9 9880H at 45W – another 8 core/16 thread part. Of course we need to take these results with a grain of salt, however even if this is a little exaggerated and best case, the 4900 chips look promising.
Are HS CPUs binned better?
Judging purely by the specs above, they must be. The HS options have very similar clockspeeds as the H variants for 10W less. Assuming they actually perform to the rated speeds within those power limits, we can only assume that the HS processors must be better binned silicon in order to hit these targets.
It's great to see options that use less power yet can (hopefully) deliver a similar performance experience. As less power equals less heat, it's less for a laptop cooling solution to deal with. Another way of looking at this instead of cooler machines is more power within thinner and lighter notebooks.
There's more to HS processors though, AMD indicated that only certain laptops get to use the HS lineup. These include models that meed specific requirements with regards to thickness, thermals, battery life and more – it seems like a whole ecosystem of desirable laptop qualities.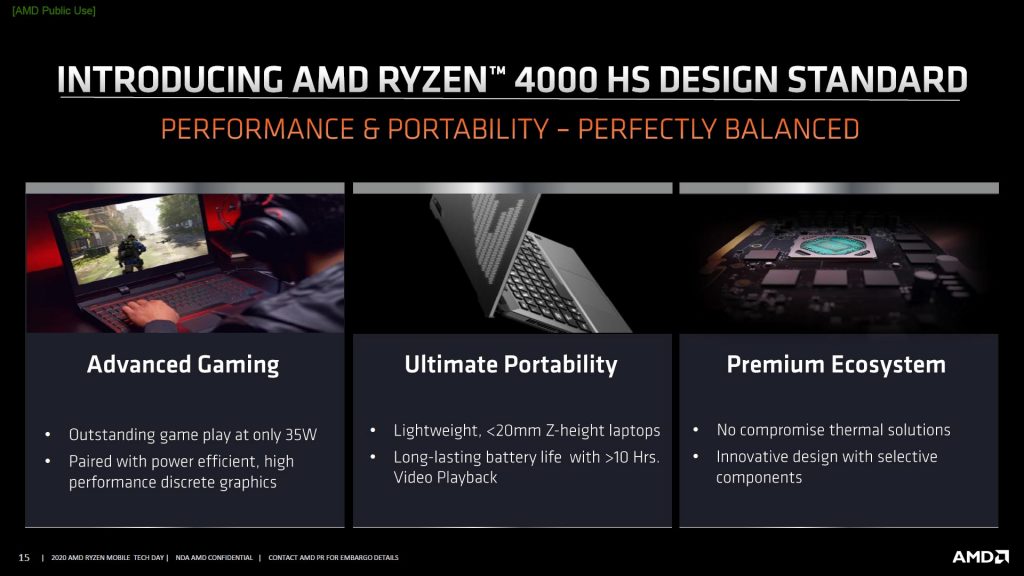 Look how far we've come
While the 4900H and 4900HS don't appear to offer too much more than their 4800 counterparts on paper, it's worth considering how far AMD have come since last generation. The Ryzen 7 3750H on the table above represents the best laptop option they had last generation, now it's a completely different story.
AMD do of course also have other 6 and 4 core options available, I'm just showing a few top end options that are closest to the new 4900 processors for comparison. Even the Ryzen 7 4800HS has twice as many cores and threads, three times the cache, and higher base and boost clock speeds within the same 35W power limit.
I'll be comparing these CPUs against each other and against the Intel competition when I have the chance over on the Jarrod'sTech YouTube channel, but until then, the specs of what's coming look interesting.
After more Ryzen 4000 information?
Check out my recent video with Hardware Unboxed, where we answer common questions: