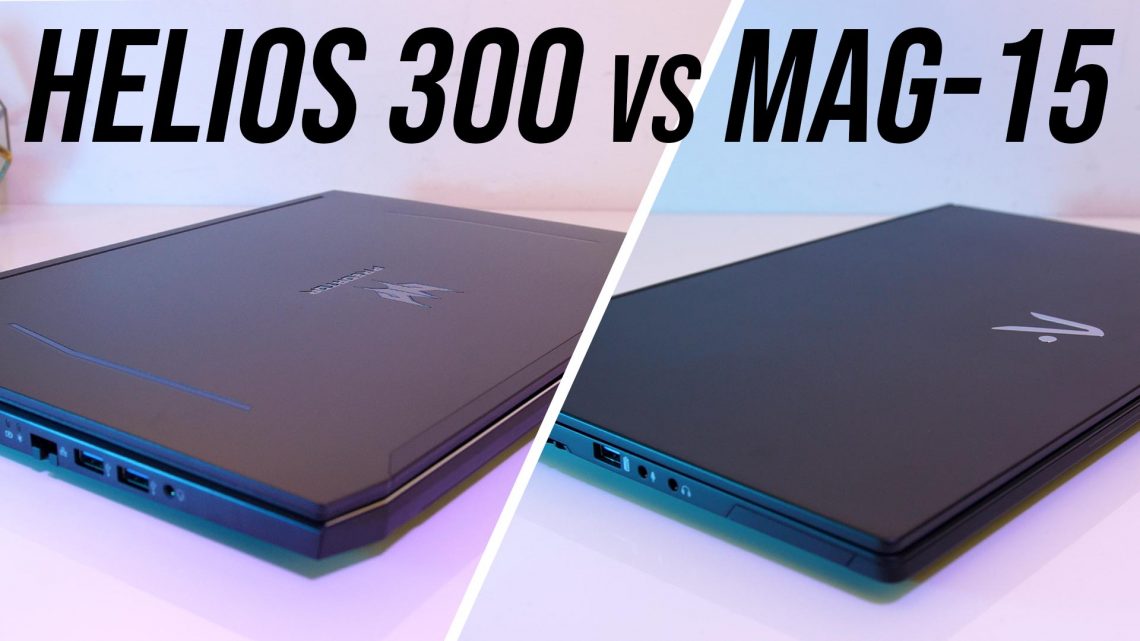 Acer Helios 300 or Eluktronics MAG-15 – Which Laptop Should You Buy?
The Acer Helios 300 and Eluktronics MAG-15 have similar hardware specs, but there's a $500 price difference between them, so which should you buy? I'll help you pick in this comparison!
For me personally, the MAG-15 is a better pick for content creation, but if I was just after a bang for buck gaming laptop, I'd go the Helios 300 – Here's why.

We'll tackle this comparison in three main areas, gaming performance differences, feature differences, and finally, price differences.
Performance
Despite both laptops have the same key specs in this comparison, there were some interesting performance differences between these two laptops.
Acer Helios 300
Eluktronics MAG-15
Processor
Intel i7-9750H
Intel i7-9750H
Graphics
Nvidia GTX 1660 Ti 80W
Nvidia GTX 1660 Ti 80W
Memory
16GB DDR4-2666
Dual Channel
16GB DDR4-2666
Dual Channel
Screen
15.6" 1080p 144Hz
15.6" 1080p 144Hz
Storage
512GB NVMe M.2 SSD
512GB NVMe M.2 SSD
By default out of the box, the Helios 300 has a -0.125v undervolt to the CPU. The GTX 1660 Ti is also overclocked with turbo mode enabled, +160MHz to GPU core and +320MHz to the GPU memory. While these tweaks can be manually made to the MAG-15 with software like Throttlestop and MSI Afterburner, the fact is most users either don't know about this or aren't willing to try, so the Helios 300 will offer an edge to the non-enthusiast crowd – let's start out with a few games.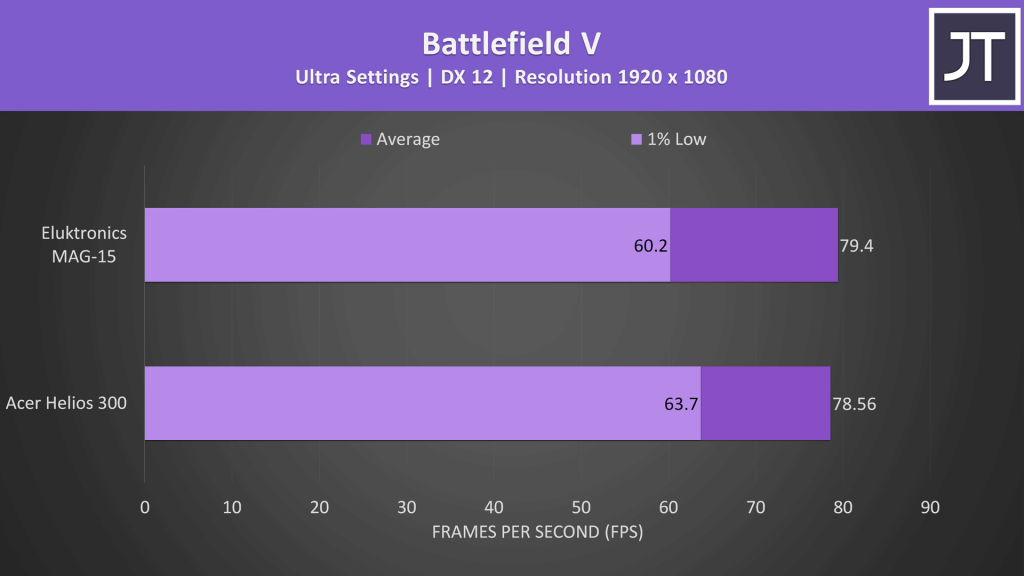 In Battlefield V the MAG-15 was slightly ahead for average FPS, however the 1% low was a little lower, probably owing to the Helios 300 having a -0.125v CPU undervolt by default out of the box.

Control was performing better on the Helios 300.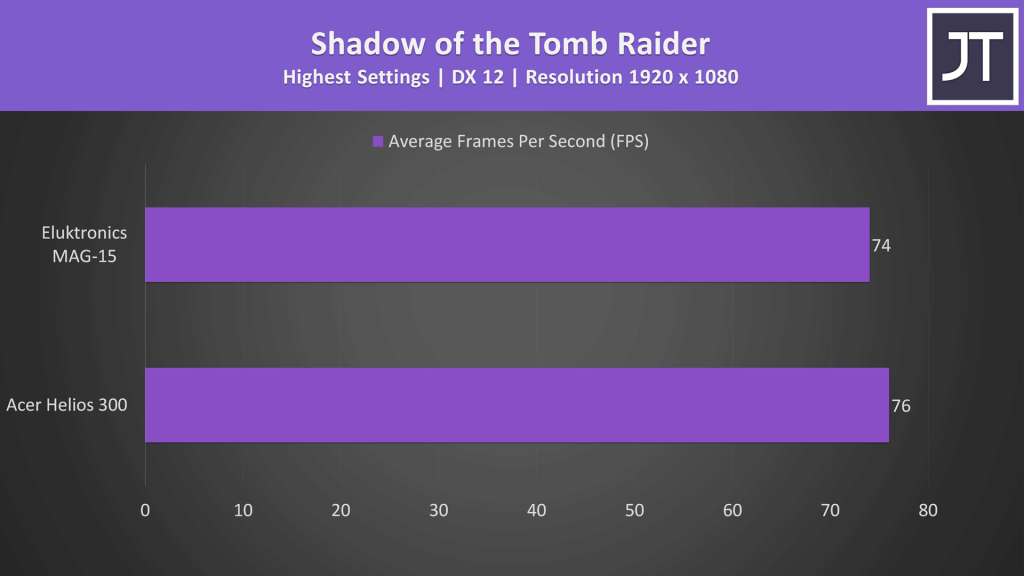 Shadow of the Tomb Raider was also performing better on the Helios 300.
The MAG-15 is also available with a higher tier Nvidia RTX 2070 Max-Q GPU, however I've shown that this generally isn't worth paying more money for in the below video:
Features
The difference in features is what sets these two laptops apart so much in terms of pricing, there are four key differences between these two gaming laptops.
Mechanical Keyboard: The MAG-15 makes use of a mechanical keyboard, which feels noticeably clicky to type on. It will come down to personal preference as to whether or not you like this, but personally I did enjoy typing on it more after long periods of time. As a result the key presses are a little louder than most other laptops, however they're nothing like even my Cherry brown keyboard I use with my desktop PC.
Battery Size: The Helios 300 has a smaller 58Wh battery, while the MAG-15 has a much larger 94Wh battery. If you're going to be using your laptop away from wall power for a period of time, then the MAG-15 will offer a huge advantage. When testing both while just watching YouTube videos, the Helios 300 lasted for 5 hours and 51 minutes, while the MAG-15 lasted 7 hours and 20 minutes, or 25% longer.
Thunderbolt 3: The MAG-15 also has the advantage of Thunderbolt 3, and while this isn't something most users buying a gaming laptop care about, it does allow you to connect a range of high speed devices such as dongles, docks, and of course external graphics enclosures. This means that you've kind of got the option of upgrading the graphics with an external GPU. I say kind of, because while this is possible, such a setup costs a lot of extra money and is generally considered to be poor value when you could instead use that money towards just getting a laptop upgrade.
SD Card Slot: This will be more popular among content creators like myself. While you could of course use a USB dongle to connect your SD card slot to any other laptop, personally I love having the SD card slot just built into the machine. That way I don't have to worry about losing or forgetting the dongle, it's always readily available.
If you require any of these extra features, then be prepared to pay more money for the MAG-15. If none of these interest you, then the Helios 300 will offer a superior gaming experience out of the box for less money.
Price
In terms of pricing, the Helios 300 costs around $500 USD less money when compared against the MAG-15, so that's definitely going to give it an edge if you're shopping with a tighter budget.
Which of these two gaming laptops would you pick and why? Let me know in the comments! I'm interested to hear how important the extra features of the MAG-15 are, and if you think they're worth paying more for. For me personally, the MAG-15 is a better pick for content creation, but if I was just after a bang for buck gaming laptop, I'd go the Helios 300.
---
We are a participant in the Amazon Services LLC Associates Program, an affiliate advertising program designed to provide a means for us to earn fees by linking to Amazon.com and affiliated sites.